Two friends, Reneesh and Nigin, from Kerala's Wayanad have embarked on a
cross-country cycle trip
to raise funds to build 5 houses for poor families across the state. Reneesh works as a salesperson at a mobile shop and Nigin is a physical education teacher at a private school.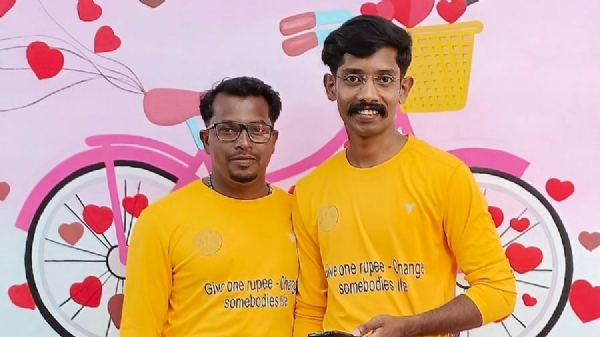 These youngsters set out on their unique journey from Ambalavayal village on December 10. Since then, they have been pedalling across the state, seeking a donation of only Re 1 for the cause, said reports. "Give one rupee, change somebody's life," is their motto.
Nigin said they were asking for only Re 1 from people because "that's an amount we can ask from a poor person and also a millionaire." A few generous people have also been offering us more money, they added, according to Mathrubhumi.
After they completed 360 km of cycling, they successfully collected enough money, around Rs 2 lakh, to build the foundation of the houses on a 20-cent land. They have reportedly bought the land from a friend prior to their journey. They said, "As the landowner knew it was for a good cause, he gave us discounts and allowed us to give the payment in installments."
Throughout the journey, the duo has been staying in a tent and cooking food using a portable gas cylinder. A solar-powered battery is helping them charge their phones.
"Initially, we had to cook our own food," they said. But over the past few weeks, they said, several people had been helping them with food and accommodation.
Reneesh and Nigin have set aside two years of their life for this charitable activity. The work on the construction of the houses is going on at the same time, they said. They added that they would stop pedalling only when the houses are fully built. They are now travelling 20 km a day and promptly posting their travelogue on their YouTube channel
'Mission One Rupee'
and other social media platforms.
Their common inclination towards helping the poor brought them together around 12 years ago. Hence, they decided to build houses for the underprivileged as "homes remain an unfulfilled dream for many."
Appreciating their efforts, Rahul Gandhi, wrote a letter to them. His letter read, "I congratulate you on your noble mission to raise funds to build homes for the underprivileged. As you embark on a cross-country cycling tour for this cause, I hope your journey inspires others to embrace their ability to make a difference."
"We often underestimate the power of a small act of generosity. I am glad that your endeavour appeals to the innate goodness in people," Gandhi wrote and wished them a "safe and fulfilling journey." Besides building houses for the needy, they have also been actively pursuing other social service work too.