Throughout the periods of time, women have shown time and again that they are more than capable of achieving things that seem next to impossible. The personality we're about to know of today is one such woman who created history, and achieved something that very less can think of even trying.
Preet Chandi
, who is an
English Sikh Army Officer
has now become
the first 'woman of colour' to finish an expedition to the South Pole!
Her expedition began in November of 2021. On January 3, she had completed the 40 mile /1126 kms trek in 40 days.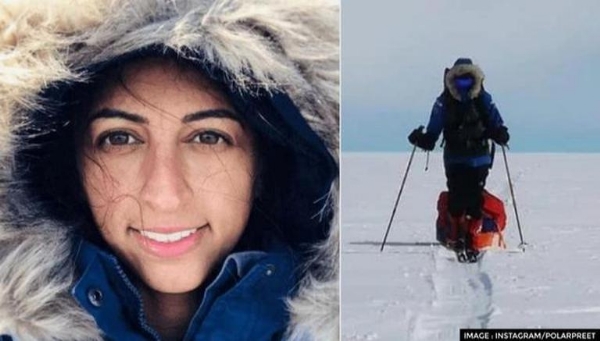 Before starting this expedition, she said that Antarctica is the coldest, highest, driest and windiest continent on earth. Nobody lives there permanently. She herself, didn't know much about the continent when she first started planning and that is what inspired her to actually go there.

About her expedition
- She has been planning her expedition for the past
2 years
. Her preparation also included a trek in
Iceland
and in the
French Alps.
Along with her on this gruelling journey, Chandi also carried a supply pack which included her fuel and food. This weighed almost
90 kgs.
In her blog, she says, "I made it to the South Pole where it's snowing. Feeling so many emotions right now... it feels so surreal to finally be here. This expedition was always about so much more than me. I want to encourage people to push their boundaries and to believe in themselves," she announced on her blog after completing the trek to the South Pole, adding that, "I don't want to just break the glass ceiling, I want to smash it into a million pieces."
Chandi received praise from many individuals over the world. But the most significant one of them was the Chief of General Staff of the British Army. In his tweet, he congratulated Chandi on the success of her journey, calling her an "inspirational example of grit and determination". Adding to her list of well-wishers Prime Minister Boris Johnson said, "What an extraordinary achievement. Congratulations Captain Preet Chandi."
Chandi is now the 3rd fastest woman to trek across the continent, and also the first person to reach the South Pole on foot in 2 years. She narrowly missed out on the time set by Johanna Davidsson from Sweden who is the fastest female to complete a solo expedition of the continent, who finished in 38 days, 23 hours and 55 minutes in 2016, said the British Army.
Upon her return from Antarctica, Chandi plans to set up an
"adventure grant"
for women using half the money raised through the Go Fund Me appeal for her south-pole trip. It will be open to women of any age or background.
She said, "It can be for any adventure, any unique adventure they want to do that is pushing some kind of boundary. It doesn't have to be a polar expedition. And I really hope that this is something that will continue, year after year after year."