For the past 25 years,
Umendra Dutt
, 58, has made it a routine to get up early in the morning, flip through his diary to call up 5 new people with whom he can discuss organic, natural farming. They aren't just farmers but scientists, doctors, academics, economists, consumer and civil society groups. His basic focus is to push 0 chemical residue farming methods.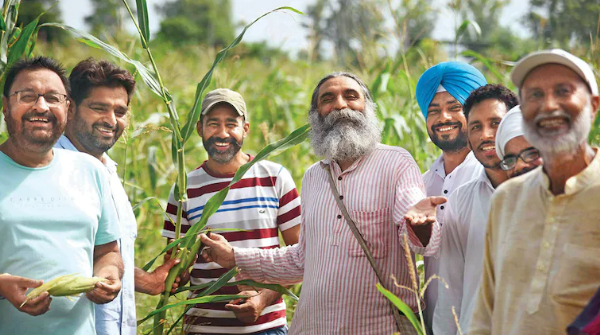 The farmer is based in Jaitu, a town in Faridkot, Punjab. He devoted his whole life to introducing this method of farming to every kind of farmer, and especially to small and marginal landholders, landless labourers, even to kitchen gardeners. What sets him apart is the effort is happening in Punjab where 85% of the crops that come to the market are procured by central agencies like the Food Corporation of India (FCI) and Cotton Corporation of India (CCI). Thus, there is extensive use of pesticides and fertilisers to boost the production levels. This has not just impacted the quality of soil and groundwater but is also harming the health of the people.
He trained more than 20,000 farmers, who now grow organic crops in around 15,000 acres. The number might be minuscule among the million-odd farmers of the state, cultivating crops on 4.2 million ha. of land, Dutt says that, but the change is big.
In 1996, Dutt was an editor at one of the publications brought out by RSS, when he began researching the impact of WTO agreements on agriculture. This changed his life forever. This was the time when most agriculture experts recommended Punjab's farmers use chemical-based products to boost productivity. He quit his job and decided to learn more. He returned to his hometown and decided to create awareness.
In 2005, Dutt began NGO, Kheti Virasat Manch (KVM), to create awareness and show by example how organic farming can be successful and good for the planet. Dutt does workshops almost 20 villages a month. He realised that small farmers can come out of conventional farming easily, and he decided to help them. Dutt realised that female farmers responded the best. Men do their calculation on the basis of output, but women farmers look for well-being. Even if she is a landless labourer, she understands this.
But it's a win-win for those who opted for it. Jagmit Kaur, a landless farmer in Bhotna village in Barnala, says that with organic vegetables, we not only get a better price but also assured consumers who don't want pesticides and hazardous chemicals in their food. Her husband Nirmal, a farm labour, now sells their produce at the markets. Punjab's religious deras are also opting for organic farming now. Dutt is their go-to man.
Dutt says that pushing organic farming in Punjab is difficult "but do-able". He says many farmers attend his talks and workshops, but only a few adopt the new methods. They are looking for a market and marketing mechanism. As an NGO, they organise weekly farmers' markets in 22 towns. They have also trained a few shopkeepers to set up stores where only organic farmers' produce is sold;15 shops like these are now open.