R Yuveraju,
35-YO innovation enthusiast, who brought about an alternative fuel for bikes and developed disinfectant drones, automatic sanitiser dispenser, and face mask burner, has now come up with his brand-new innovation -
portable oxygen concentrator
.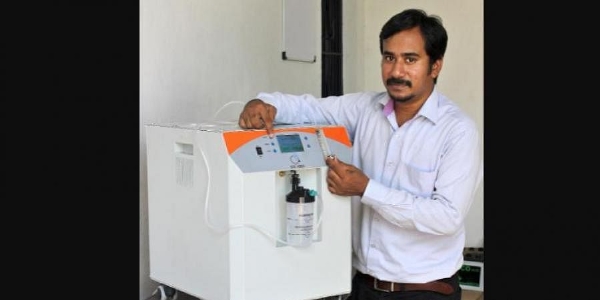 Yuveraju is an aeronautical engineer, did his research on the technology for 3 months, and took help from experts in industry to then successfully design this oxygen concentrator. He was inspired to create this machine when he saw his relatives, and others, struggle to run all over the place for getting oxygen concentrators to save lives during the peak of Covid-19.
Yuveraju lives in Meena Estate near Udayampalayam, and is a member of CODISSIA Defence Innovation & Atal Incubation Center (CDIIC). He said that they have been supplying lab equipment to institutions and the Defence sector for more than 10 years. The lockdown made them develop indigenous products, reducing dependency on substandard Chinese products. A father of one of his friends died due to Covid-19 complications as oxygen concentrators weren't available.
He said he spent over Rs 15 lakh towards research and development (R&D) alone. He did not import anything from China, as he has always wanted to be a part of the Make in India movement. With the help of his friends P Manoj Kumar, M Prithivi Krishnan and Prassana Ravi, he was able to carry out the works successfully.
As for the specifications, he said his concentrator would have a display showing real-time purity of oxygen. He says that this machine was priced at Rs. 75,000, but he said he was ready to lower the price if the government gave subsidy.
In 2020, he developed drones that were used to disinfect streets in Rajapalayam and Madurai. Following this, the Coimbatore City Municipal Corporation (CCMC) bought the drones from him.
MV Ramesh Babu – the CODISSIA president, said that they were pushing for his oxygen concentrators to be used in Defence hospitals all across the country, since the concentrator can be operated for 24 hours continuously.