An ancient Indian idol dating back to 10th century, which was illegally removed from a temple in UP over 40 years ago and discovered in a garden in England, was restored to India on the occasion of Makar Sankranti on Friday.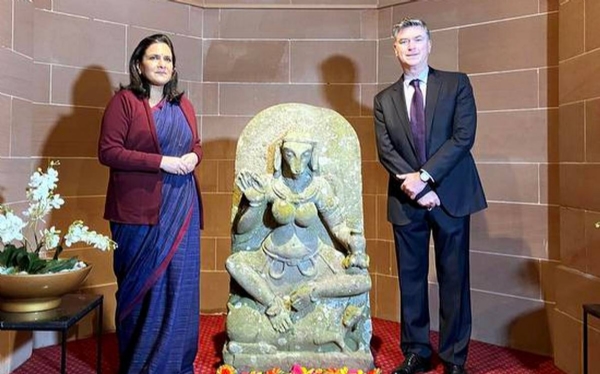 The Indian High Commissioner to the UK, Gaitri Issar Kumar, took formal charge of the sculpture at the High Commission of India in London from Chris Marinello of Art Recovery International, the organisation which helped repatriate the idol. The sculpture, which is part of a Yogini set from Lokhari Temple in Banda district of Bundelkhand, will now be dispatched to Archaeological Survey of India, New Delhi.
Kumar said, at a handover ceremony at India House, "It is very auspicious to be receiving this Yogini on Makar Sankranti." She added, "The process of repatriation was completed in record time after the High Commission was made aware of its existence in October 2021. This will now be sent to the ASI and we assume they will hand it over to the National Museum."
Kumar recalled the "happy coincidence" during her tenure in Paris that another ancient sculpture of a buffalo-headed Vrishanana Yogini, apparently stolen from the same temple at Lokhari, had been recovered and repatriated to India.
In September 2013, it was installed at the National Museum in New Delhi, the likely destination of the goat-headed Yogini. Yoginis are a group of powerful female divinities associated with the Tantric mode of worship.They are worshipped as a group, often 64, and are believed to possess infinite powers.
The goat-headed Yogini went missing from Lokhari in the 1980s and had briefly surfaced in the art market in London in 1988.