We can all agree to the fact that there is nothing like a cup of tea to soothe your soul. The most popular drink of Indians, over
70% of the tea produced in India is consumed within the nation itself.
Many start-ups are venturing into the tea space - from selling premium tea blends to tea chains or cafes across India. One such startup is
Esah Tea
, started by a 26-YO
Bijit Sarma,
hailing from Mangaldoi, Assam. Esah Tea offers a range of single-origin organic tea blends that are carefully curated from local gardens and marginal tea growers.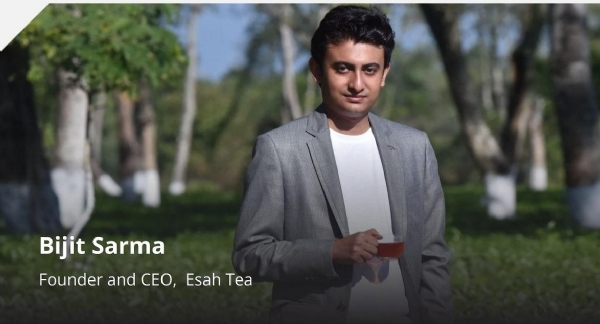 The brand currently offers a wide range of organic tea variants like Whole Leaf Black Tea, Green Tea, Oolong Tea, White Tea. It also offers flavoured tea products like Organic Assam Masala Chai, Rose Black Tea, Lychee Black Tea, along with some popular blends including - English Breakfast Tea, Chamomile and Moringa Tea.
Sustainability -
Most teabags available in the market are made from either nylon / polymer-based materials, Esah is making a difference, with its cotton teabags. Researchers have suggested nylon teabags are harmful to health. It can release lots of unwanted radicals in the teacup.
To this, Bijit adds that to promote an environment-friendly approach, they decided to replace nylon / polymer-based materials with cotton ones. They developed pyramid organic cotton teabags made from pure organic, handmade cotton. It contains only pure cotton, which is just cellulose, thus it doesn't release any harmful radicals to the cup. This is the future of teabags.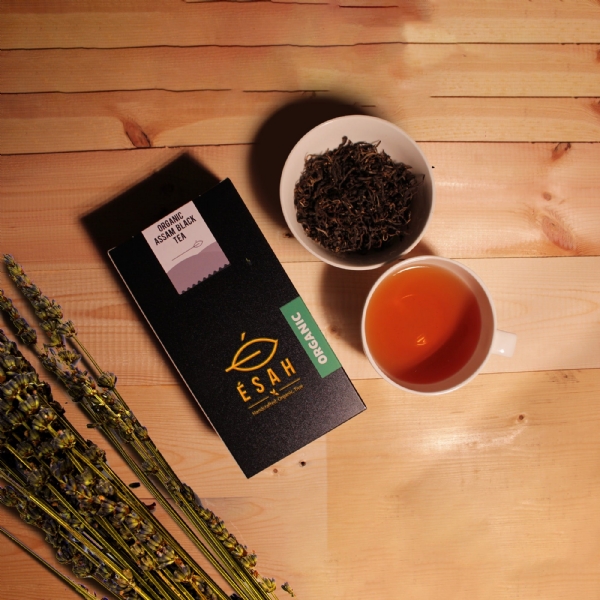 They wanted to help small tea growers without the interference of a middleman. They are trying to empower these small growers by bringing transparency between seller and buyer. Currently, the start-up works with around 150 small tea growers from the tea gardens of Assam. This company was also selected to partner with Amazon Launchpad - a platform for start-ups to showcase their products.
Bijit is an ardent tea lover and has completed his BTech from MM University, Ambala Cantt. Haryana. He came back to Assam in 2017. Seeing huge potential in the tea sector, Bijit launched his startup - Ruloi Tea Trading Private Limited in 2017. He immediately started working with small tea growers to convert them to organic tea farming, and also created a marketplace.
Bijit began small, showcasing his products in the department stores in Assam and distributing it amongst friends who lived outside India. He also met some members from
SRD Group,
a large Assam-based Food & Beverage (F&B) business group, who were intrigued with the idea of selling organic tea. In 2018, the SRD group gave Bijit capital and office space, also providing him a 10-member team, and started working with the farmers and focusing on branding aspects.
Also Read | Preet Chandi - 1st woman of colour to complete solo expedition in Antarctica!
A year later, the start-up rebranded itself to Esah Tea. They started exporting their products to different countries. In 2020, Esah launched its first D2C ecommerce store, to provide simple, convenient customer experience. Bijit says that D2C makes it simple for brands to develop a unique marketing plan that allows them to access the market directly, without the use of middlemen or third-party providers.
Esah Tea now showcases
60 variants of tea from Mangaldoi
, Assam's tea gardens on its own website along with on online marketplaces like Amazon, Flipkart, etc. Makers of Esah Tea have ensured the products are available at offline stores in the region, and also deliver to 25 countries through its online store. Esah Tea saw tremendous growth in its customer base on the back of its D2C ecommerce platform in 2020 with close to 6,000 customers, which has now grown multifold to 15,000 customers.
Bijit says, "We are also shipping more than 12,000 monthly shipments of tea packets. We are currently exporting to the American Market (countries like Canada, Mexico, Brazil, etc.) at 50%, European Market (France, Germany, Denmark, etc.) at 20% and South Korea at 30%."