Women managing traffic is still a rare sight to be seen in India, but
Shubhi Jain
, an Indore resident, is intent on changing this sight. Shubhi is not just a traffic warden in Indore, but she also uses unique ways to control the traffic.
She says that when she joined as a traffic volunteer, she observed that when they stopped people and told them to follow the rules, they looked irritated. So, she decided that when she speak with someone, they shouldn't make a bad impression of her. She did it by thanking people who are already following the rules. People found it surprising that someone is thanking them for things they are doing for their own safety - and a smile is contagious.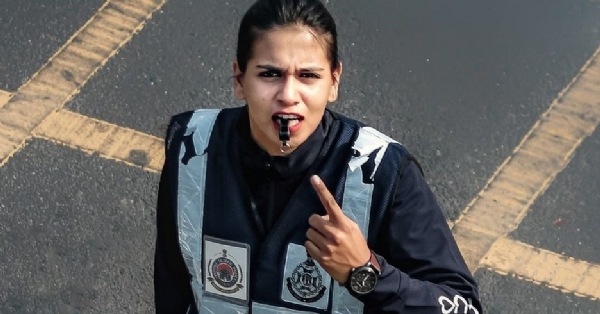 An MBA graduate from Symbiosis, Pune, Shubhi started volunteering with the Indore traffic police as part of a 20-day social internship programme in her college in 2019. Indore police was running a volunteering programme with college students for traffic rules and management awareness. She joined the traffic management team along with 1,800 students.
While this internship ended, Shubhi stuck to her volunteering duty. This 24-YO can be seen breaking into dance moves while she is at the traffic signal to raise awareness about traffic rules. The videos of her dancing have gone viral on social media.
She said that she joined it for a purpose, and fell in love with the social cause of road safety. There is no monetary gain in it, but she still continues to do it. One month of volunteering, she went back to Pune to complete her studies, but then the lockdown was imposed. Hence, she had to go back to her hometown in Bina, Sagar district in MP.
She says that even though she is a volunteer, her energy matches with those of cops. She still can't compare herself to them as they perform their duty for 12 hours and she does it for only 2.5 hours, from 6 pm to 8.30 pm every day.
Public spaces tend to be unsafe for women, but Shubhi says she doesn't face any challenges there. The department supports her, and there is always a sub-inspector and two constables available at all times who are aware of my presence. They keep a watch over her, and there are people watching the roads from control-rooms too, so safety is not an issue for her.
But she adds that the job is physically very strenuous. One needs to run, speak, and whistle among many other things. Whistling itself requires so much energy when one has to do it continuously. Squares are infamous for being places with a lot of pollution, so that is another challenge. She does it in the evening, and doesn't have to face the afternoon sun much, which can be very harsh for the traffic police to be out and about during the burning summer weather.
Beyond a traffic warden
– More than being a traffic warden, Shubhi founded her startup Maatiwala, which is a one-stop shop for all gardening requirements at homes where one can book a gardener online, in January 2021.
She has always felt a deep connection with plants and nature, and hence wanted to do something in this space. She set it up in Indore and it has done well so far. One can get all the gardening services and products from their website. She currently has 5 gardeners in her team, whom she has called from her town.
A traffic warden in the evening, an entrepreneur during the day, but Shubhi's mornings begin as a radio jockey with Radio Mirchi. It has been 3 months since she joined Radio Mirchi and now she has a radio show of her own, Hi Indore. She has truly followed her heart all along, and it has made her the happiest person from within.