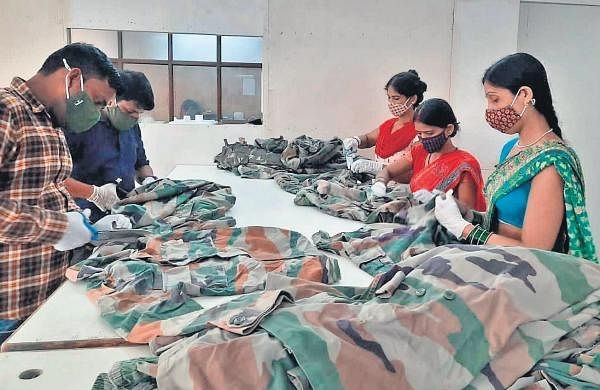 When Major General Ashim Kohli retired from the Indian Army back in 2019, he had with him stacks of several kinds of service uniforms. He only wished to keep a couple of them for the sake of remembrance and wasn't quite sure how he could dispose off the rest with the proper dignity they deserved. He talked to many of his fellow army officers, who retired before him. He found out that most of them had boxes full of old uniforms, and didn't know what to do with them.
Kohli came up with an idea and on Republic Day 2021, he set up a non-profit that collected uniforms from defence forces and turns them into products.
Many soldiers like to keep their uniforms intact with the medals. Some cut or burn them with heavy hearts to avoid misuse. Kohli's organization collects old uniforms from defence workers. Products like masks, aprons, school bags, blankets, and a many more are made from them. These products are then donated to several army welfare organizations, and to underprivileged parts of the society. Kohli is the founder of Sewaj Neesim Foundation which runs a website called 'Vardi Ka Samman'. This is the main cause it stands by. In the past couple months, they have collected more than 5,000 old uniforms. These were mostly of the retired and serving defence personnel.
As many as 16 women work here and do all the jobs to make the products. Right from cutting the fabric, stitching articles like masks, bags, pouches, backpacks, and bottle covers out of them, to lastly packing them.
All the centres from across India can donate uniforms to Vardi Ka Samman through central points located in Pune, Lucknow, Delhi, and a few other areas. It could be from Leh, Kargil, Galwan or essentially any part of the country.
Sepoi is a similar initiative. It was an initiative started in 2019 by a Mumbai-based couple Siddharth and Suchi Jaiswal. This initiative turns old defence uniforms into products like backpacks, laptop bags and tote bags.
The products made by Sepoi has a card in it with a story of the uniform and the soldier who wore it. The uniforms are not collected randomly but only whose wearer can tell his / her story. They wish to educate people about values, selfless service and valour of the veterans of India.
Sepoi's signature collection is made of cloth from old army uniforms along with fresh leather which make fashionable bags. Jaiswal says he adds the leather to make sure that their products look premium and competitive in market. They are high on patriotism and style.
Sachin, the designer and production head at Swatric (a Delhi-based firm currently upcycling old defence uniforms for Sewaj Neesim), said the fabric used in army uniforms has a twill weave construction, which makes it sturdy and suitable for making many products.
This was a little about these amazing initiatives that make the correct use out of the old army uniforms which are no longer being used. They definitely deserve a lot of respect for the amazing job they are doing. If you know of any more such amazing and unique initiatives, tell us in the comments. Do visit the space for more such interesting stories!