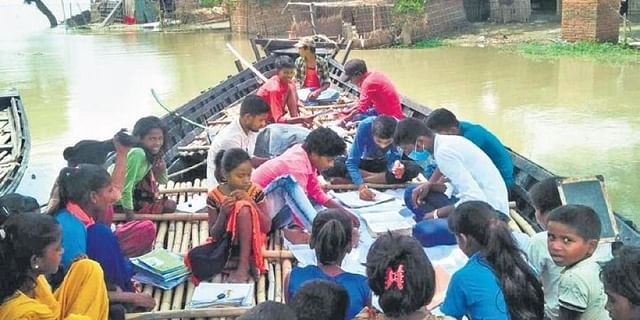 3 youths, (all of them postgraduates in different subjects and fields), have come together to start to teach children in the flood-hit areas of Katihar district in Bihar, on a boat.
Through their initiative '
Boat / Naav ki Pathshala
,' they reach the fully flooded Singhala tola in Manihari to teach these children here. Close to 40 children studying right from class 1 to 10, all of them get tutorials, free of cost, on this boat.
Among these children, there are around a dozen of them who are to appear in the important Class 10th exams next year. Located along the Ganga River, the Manihari sub-division in Katihar district braves the fury of the floods every year. Floods have destroyed many other districts, with thousands of people forced to take up refuge in camps, in a lot of areas in the state. Ravindra Kumar Mandal (30), Pankaj Kumar Sah (26) and Kundan Kumar Sah (36) run a coaching centre too, which is also free of cost. Mandal said that at the coaching centre, they don't charge the tuition fees for students from Class 1 to 10.
"When the flood water entered the Singhala tola recently, the students, especially from Class 10, faced school closure. Since they will have Board exams next year and there is no way right now to help them with their studies, we thought why not take a boat and reach them," he said, claiming all safety measures are being followed for the children. The objective behind providing free teaching to the students of interiors of Katihar is to make them educational empowered, Mandal said. Moreover, apart from taking classes, this determined trio also try to help their students by providing them with stationery items like pencils and erasers.
On Monday, the District Education department in Katihar sent an official letter to the trio advising them to teach these children on dryland, rather than teaching them aboard on a boat, for safety issues. Mandal informed that the flood situation in this part of the district continues for around 6 months, and the free teaching they are providing would continue till then.
This was about the 3 youths who took the initiative to teach the students whose school and teaching were taken away from them. Teaching students aboard a boat was certainly a unique idea, even if that came with risks. We need more such youths coming forward to contribute to those in need in this day and age. Comment below your thoughts about this unique Naav ki Pathshala. Do visit the space for more such interesting stories!