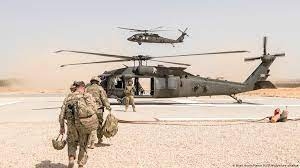 The US announced the end of the 20-year-old war it had in Afghanistan, as the last American military flight flew out of Hamid Karzai International Airport in Kabul, just before the deadline of August 31. Over 114,000 people have been airlifted from Kabul airport in the past 2 weeks, as a part of effort of USA.
"Now, our 20-year military presence in Afghanistan has ended," said President of USA, Joe Biden, thanking armed forces for their execution of a risky retrograde from Afghanistan.
As a reaction to this, the Taliban fired guns in the sky, celebrating their victory after 2 decades of US military presence. "I cannot express my happiness in words, our 20 years of sacrifice worked," said Hemad Sherzad who is a Taliban fighter posted at Kabul airport.
Meanwhile, the UN Security Council, (under India's Presidency), has now adopted a resolution demanding that the territory of Afghanistan should not be used to threaten or attack any country or to shelter or train terrorists.
The resolution said that it expects the Taliban to follow through with their commitments they made regarding the safe, secure, and orderly departure from Afghanistan of Afghans along with the foreign nationals. The Council adopted the resolution put forth by France, UK and the US with 13 Council members voting in favour of the abstention of Russia and China.
The US anti-missile defences stopped 5 rockets that were fired at Kabul airport on Monday, said a US official. According to Reuters, reports of local media said that the rocket attack that took place today was launched from the back of a vehicle. Later in the evening, the Islamic State claimed responsibility for this attack.