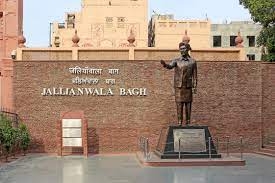 The revamped memorial was to be inaugurated on April 13 this year to mark 102 years of the massacre, but it had to be postponed owing to Covid-19 related restrictions.

Prime Minister Narendra Modi will be inaugurating the newly renovated complex of the Jallianwala Bagh memorial in Amritsar, Punjab, via video conferencing on Saturday. The Prime Minister's Office (PMO) said in a statement, PM Modi will also be inaugurating museum galleries established at the memorial. It also said that this virtual event will be displaying several development initiatives that the government took to upgrade the complex.
The PMO said that the Culture Union Minister, G Kishan Reddy, Union Minister of housing and urban affairs, Hardeep Singh Puri, ministers of state for culture, governors and chief ministers of Punjab, Haryana, Himachal Pradesh and Uttarakhand, all Lok Sabha and Rajya Sabha MPs from Punjab, and members of Jallianwala Bagh National Memorial Trust among a few others will be there, present on this occasion. The renovated memorial was going to be inaugurated on 13th April 2021, as a mark of 102 years of the massacre, but it was postponed due to the restrictions of Covid-19.