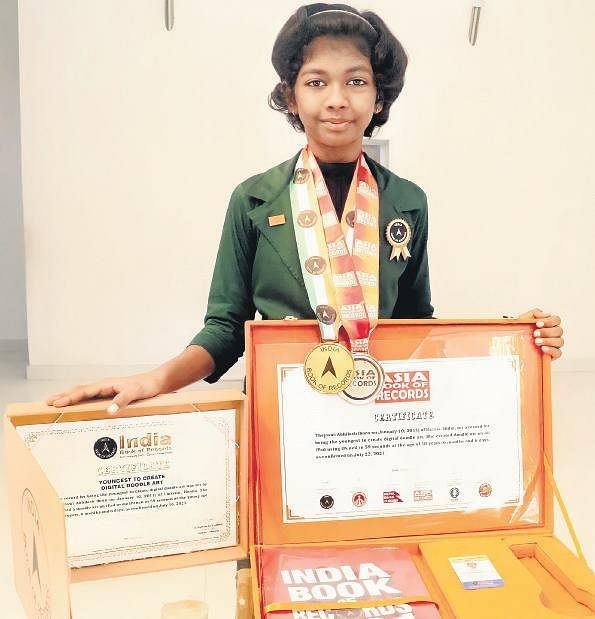 10-year-old Thejaswi Abhilash hailing from Thrissur, Kerala has now become the youngest child in Asia complete a digital doodle in under a minute's time. This young girl just recently found a place in both - the India and also the Asia Book of Records.
Thejaswi used to watch her uncle, Arjun, who is a student at the National Institute of Fashion Technology (NIFT), Bengaluru, drawing completing his assignments on his iPad, she found herself wanting to try her hand at it, just for fun. She was only used to drawing shapes and pictures on paper, like most children do. Due to this, she first struggled to get a grip on and understand Procreate, which is a digital illustration application. Procreate can be daunting to those who have never used it before, just like most other applications.
Progressively over time, and after a lot of practice, Thejaswi mastered her art on the digital application to a level where she has now reached where she attained a title in not just the India Book of Records, but also the Asia Book of Records! She is now the youngest girl in the country and in Asia to create digital doodle art on an iPad in less than a minute; 59 seconds to be exact.
Thejaswi is ecstatic about receiving certificate and the acknowledgements presented by the record committee. She says she has always loved drawing and making artwork. As for digital art, her uncle was her inspiration for the drawings. Seeing her uncle creating art on the iPad, using what looked a pencil-like device, immensely fascinated her. Her uncle was the one who actually taught her how to draw using the iPencil. What she enjoyed drawing the most were cartoon figures and shapes. Hence, she chose to draw the same for the record as well.
Thejaswi is currently studying in Class V in Sree Sharada Vidyalaya Secondary School in Kalady.
She says that the record which she has set is a new one. Many people break the records which have already been created, but she set a completely new one. Her mother, Kavitha, was the one who suggested her to at least attempting the records. For this, she trained herself to finish the doodle within 30 to 40 seconds, to get acquainted with the pace.
Her mother says that Thejaswi has got big plans for her future. She wants to start her own Fashion Institute in Angamaly, where she will be instructor and also a fashion designer. She also said that Thejaswi has always loved drawing and painting ever since she was young. During her records, she used an A4 size tab screen. She also wants to explore art more – especially digital art like animation. She also plans to try for more records in the future, after exploring more of these art forms. For Thejaswi, digital art is not merely a leisure activity, she takes it seriously as she wants to make a career in the field.
In a country like India where the arts is still underappreciated and careers like engineering are the only ones given priority, Thejaswi has reminded us that no stream should be undermined. We can all take inspiration from this 10-year-old - age is just a number, we can achieve what we want to by working hard for it, no matter our age. If you know of any more such youngsters in our country, tell us in the comments below. Do visit the space for more such inspiring content!