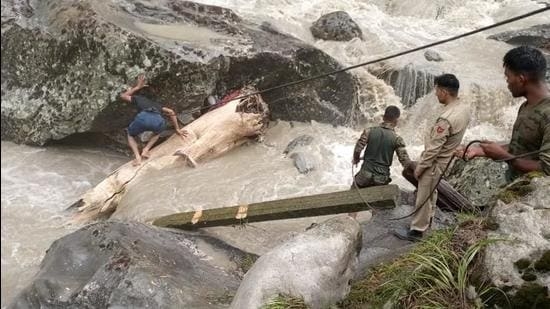 Kishtwar had first a flash flood, followed by a cloud burst early on Wednesday. Until the evening, on the same day, seven bodies were recovered and 17 people were rescued from the debris caused by both.
Rescue teams were sent to the Honjar village, and they went through the muddy debris in the Kishtwar district on Thursday morning, to search for survivors. The rescuers believe that till now, 36 people are missing.
Thankfully, the rains have now subdued in the Jammu area since Wednesday evening. All the SHOs & police posts are now on high alert and are briefed to make rescue teams in case of any further need. They were also briefed to provide assistance to the civil administration.
The government of J&K has announced ex-gratia of ₹5 lakhs each for the families of those who lost their lives in the disastrous cloudburst that happened in Kishtwar. The government will also be providing those who are seriously injured with ₹50,000 each. The State Disaster Response Fund too, will give ₹12,700 each, to the injured ones.
People are being advised to take the necessary precautions & pay heed to police advisories to no go in the vicinities of any rivers or streams during this season, especially during such dire times.