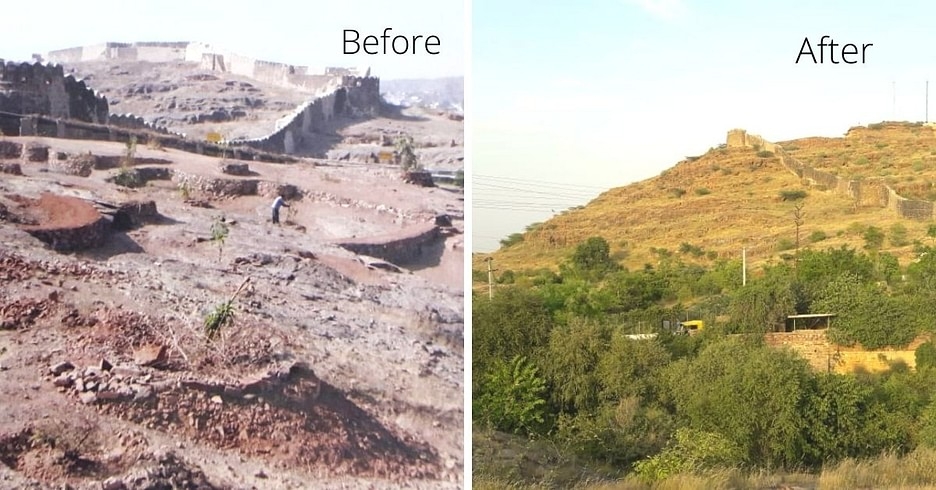 Since 1987, a retired government school principal was planting saplings around the barren land surrounding Jodhpur's Mehrangarh Fort. He has now turned these 22 hectares of land into a lush green oasis.
In the past 35 years, Prasannapuri Goswami has made an extremely special green cover all around the majestic fort of Mehrangarh in Jodhpur. This is one of the most visited tourist destinations in Jodhpur. The hills around the fort which weren't before, are now covered in a lush green which looks like sight for sore eyes. Locals visit the area for their morning and evening walks to enjoy the greenery and the various trees and plants.
Mr. Goswami, 75, recalls that he had wished to turn the dry desert into green cover ever since he was a child. He had retired around 15 years ago but he still remembers the passion he had for this fort since his childhood. The barren hills around the fort often made him sad.
In 1987, he was posted in a Girls School in Mehrangarh, and that is when he started his mission. After school, he used to go to these hills to plant saplings – particularly in the 3-way junction between the Mehrangarh & Jaswant-Thada area in the city. He walked long ways to bring water in buckets from a few ponds for the saplings. Many laughed at him, but eventually many others took inspiration from him. His students and some locals helped him in his initiative.
Seeing his efforts, even the former royal family of Jodhpur helped him in his noble mission. The administration provided him with a water connection and arranged for a water tanker for him. The royal family even appointed 2 of their staff members to help Mr. Goswami in this work. By 1995, under a scheme of '30 Districts, 30 Tasks', the district administration ensured that over 22 hectares of land adjacent to Mehrangarh fort was fenced - hence all trees that Goswami was growing there will be protected. In a few years, 1000s of trees started growing in the area of 15 hectares near the fort. With these trees providing shade & shelter to everyone, and fruits and flowers growing there too, Mr. Goswami's effort started being appreciated. Today, this vital 'green lung' of Jodhpur is known to be an inspiring feat.
This land of 22 hectares which was once barren, now has over 50,000 trees and is now a tourist attraction. Some of the wildlife has also returned to the area. Close to 200 types of birds are seen here. They also have 70 different types of grass and 130 kinds of medicinal plants in the area.
Mr. Goswami did pay a heavy price for this green oasis that he has built over the years. Many years ago, he was transferred to Jalore, hence, he had given his elder son, Pramod, the jo tob carry on his mission forward. Unfortunately, while spraying pesticides, Pramod was standing against the wind & ended up inhaling a lot of chemicals & immediately collapsed and died. Mr. Goswami was devasted due to this and almost gave up. But he then decided to not give up and protect his plants. The green result of his efforts is before us today.
This was about the lush green oasis grown by Mr. Goswami over the past 35 years. Not many people would put in so many efforts over so many years to plant trees (especially after losing a son to it) and create a green paradise on a barren land. His passion and persistence are some we should definitely take inspiration from. If you know of any more such inspirational people, tell us in the comments below. If you enjoy such content, do visit the space for more!