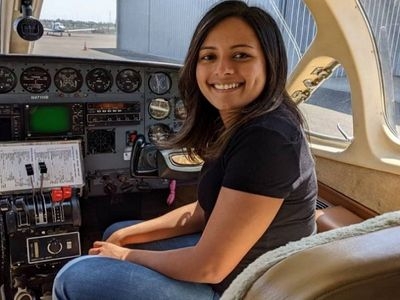 Maharashtra-born Sanjal Gavande, the daughter of a municipal corporation employee, chose aerospace as her subject for her master's degree and cleared it with a first-class.
Sanjal Gavande, 30, hails from Kalyan in Maharashtra & is on the team of engineers who built Blue Origin's sub-orbital space rocket named New Shepherd. It will take Jeff Bezos along with 3 others to space this month.
Sanjal is a mechanical engineer graduate from the University of Mumbai. For her master's, she did mechanical engineering from Michigan Technological University in 2011. After her Master's, she also worked in Mercury Marine, the marine engine division of Brunswick Corporation, in Wisconsin. She worked there for 3 years & then joined Toyota Racing Development in Orange County, California as a mechanical design engineer.
Her father Ashok said, "She always wanted to build a spaceship and that is the reason she chose aerospace as a subject while pursuing her master's degree at Michigan Technological University." Her family lives in the Kolsewadi area in Kalyan.
During weekends, she began taking flying lessons, going after her dream of going to space. She got her result of her immense hard work when got her pilot's license in 2016. Sanjal is now also a licensed commercial pilot. Moreover, she was also honoured with the Pilot of the Year award in 2021 from Orange County, California chapter of Ninety-Nines - a local chapter of the International Organization of Women Pilots.
This was her childhood dream, and she is proud to be on the team of Blue Origin. She now has a commercial pilot's license & she applied for a space engineering job at Nasa, but wasn't selected over citizenship issues.
This did not discourage her or give up on her dream. Instead, it made even more determined and she applied for a job at Blue Origin in Seattle where she cleared the interview for a systems engineer. She was later selected for this project that built the New Shepard rocket.
Sanjal has been working in Blue Origin in Seattle as a systems engineer since April 2020. Her mother, Surekha, said that, "People told us that she is a girl, so why has she opted for mechanical engineering? I also thought sometimes about whether she would be able to handle such hard work. She has now made us all proud. She had a dream of design aerospace rockets and she has achieved it. She even got a commercial pilot's license in the US. We just supported her and she achieved everything on her own."
This was a little about Sanjal Gavande, whose determination and hard work has made her reach space today. Her story sends a very inspirational message to everyone to not give up on your dreams and always try to do better. If she had given up after not getting a job at NASA, she would never have achieved what she has today. If you know of anyone with such amazing stories, tell us in the comments below. If you enjoy such content, do visit the space for more!