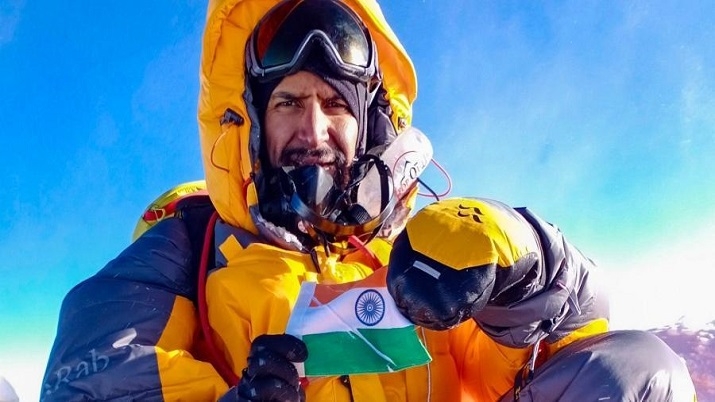 Neeraj Chaudhary tested positive for Covid on the 27th of March and was back in Kathmandu in April. He scaled the Everest on the 31st of May.
Neeraj tested positive for Covid on the very day he was supposed to leave for Kathmandu for Mt Everest. This did not shake his willpower, and he was back at the base within weeks of recovery. He managed to hoist his institution's flag, alongside the tricolor, on the very summit of the mountain.
While India was having the second wave of the pandemic, Neeraj's family in Rajasthan, were anxious and were waiting for an update about his health.
Neeraj, who is 37, did his MTech in Environmental Sciences and Management at Indian Institute of Technology (IIT) Delhi in 2009-2011. He is working with Rajasthan Government's Water Resources Department as of now.
He started mountaineering in 2014. In 2020, he got selected as a member of Indian Mountaineering Foundation (IMF) Everest Expedition under the Ministry of Youth Affairs & Sports. But the expedition got postponed due to the pandemic.
The second wave brought up a lot of uncertainty amongst many, but he still reached Kathmandu with his team to start the expedition, completely undeterred. He said that he had hit a roadblock after testing positive, and had to go back to Jaipur. He had no other major symptoms of Covid other than fatigue. He said that he wasn't really thinking about Covid then. All that was on his mind were the efforts he had put in and the prep he had done to reach the point he was at. His determination pushed his body harder than ever, as he knew he wouldn't get a second chance anytime soon at doing this.
Even after reaching Kathmandu, the constant news of the virus in the country had him worried for his family. On top of the second wave, the cyclone updates also made him worry about his family who were in Rajasthan.
He said that climbing the mountain wasn't difficult for him just physically. After reaching there, it took him 3 attempts in the span of 36 hours to reach the top. But once he did, it was the best feeling he'd had. He said he managed to scale the peak on the 31st of May.
Neeraj took the flag of IIT with him to the top, saying that IIT had helped him shape his career. The alumni association helped him start a fundraiser of Rs. 24 lakhs for his expedition. A flag ceremony was held in IIT Delhi on Friday to celebrate Neeraj's outstanding achievement.
The IIT Delhi Director, V Ramgopal Rao said that Neeraj started the summit push directly from Camp-II (6400m AMSL) on the 30th of May and on after the summit on 31st of May, he returned to the camp directly after his continuous efforts of 36 hours.
This was about the outstanding story of Neeraj Chaudhary, the IIT Delhi alumni who achieved this huge feat and made not only his institution, but our whole country proud. Not many people would have dared to attempt to summit the Mt Everest, just weeks after recovering from Covid-19, but Neeraj did it, and set an amazing example for all of us. His achievement should definitely be applauded. If you know of any such people who have followed their passions through all challenges, tell us in the comments below. If you enjoy such content, do visit the space for more!