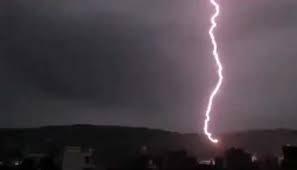 28 were killed due to lightning in UP and Uttar Pradesh as a lot of regions in North India received heavy rains on Sunday. 13 animals, which included 10 goats and a cow also got killed in the lightnin
18 of these deaths were recorded in Rajasthan. 21 individuals, including 6 children were also injured in the lighting in many villages in the state, said the police. The ones who succumbed included 7 children from Jaipur (near Amber Fort), Jhalawar and Dholpur. In Lalgaon in Jhalawar, a young shepherd (23 years old) named Tara Singh Bheel was killed on spot after a bolt of lightning struck him. In this incident, 2 buffaloes were also killed.
Chief minister of Rajasthan, Ashok Gehlot & Governor Kalraj Mishra expressed their grief on the loss of lives in these tragedies. Gehlot declared ex-gratia of ₹5 lakh each to kin of the people who lost lives in the lightning here. He also declared compensation for those who are injured.
In UP, 10 were killed to lightning, 2 of whom were teenagers. 3 individuals, including an 8-year-old boy, were killed in a village in UP when their house collapsed in a landslide caused due to a heavy rains.