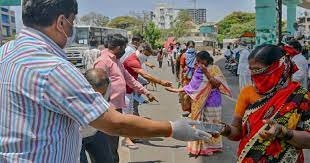 In the middle of the current crisis we are facing, a lot of volunteers and citizen groups have been helping the needy with Covid relief work.
The second wave of the pandemic has been particularly trying on Bangalore as the state has been registering not only an increased number of cases but also of fatalities. All across social media, requests for hospital beds, oxygen and similar queries could be seen in abundance.
During these tough times, many citizen groups & volunteers have stepped in to help those in need of it. Just to name a few, home cooks have been delivering meals free of charge to the families affected by the virus, and volunteers have been working alongside the civic body to help the needy with resources.
In April's last week, a guard of an apartment building in Whitefield, Bangalore, tested positive for Covid-19. Soon, his wife too tested positive and was admitted in the ICU. It goes without saying that the situation was beyond distressing for their son, even while the family did receive some help. The ambulance driver came as a blessing in disguise as he took care of the boy and helped him with the hospital formalities after his mother was in the ICU. The ambulance driver even made sure to drop him back home.
There are several citizen groups namely Whitefield Rising, who have been collaborating with NGOs and Mercy Mission who are non-profit organizations who are a part of Covid relief, making sure help reaches in time to those who need it. Zibi Jamal, who is a member of Whitefield Rising said that they set up quarantine centers with Covid care centers for children.
Zibi added that since medical aid was the priority, they focused on it more. Volunteers would take stock of bed availability through the helplines given by the Bruhat Bengaluru Mahanagara Palike (BBMP). This group also installed a beverage machine for the frontline workers in several Bengaluru hospitals.
Similarly, Citizens for Citizens aka C4C which is a citizens' community service group, have been donating dry ration kits. On 4th of June, the group handed out dry ration kits to families in need in & around Vasanth Nagar in the city.
Rajkumar Dugar, who is the founder of the 2-year-old initiative, says that the group has been doing COVID relief work since the start of the pandemic and has helped many in locality. The collective has also organised blood donation camps and has also donated oxygen concentrators, ensuring COVID-19 appropriate behaviour was being followed in the primary health centres in their locality. They helped with cleaning the premises and putting new isolations in.
Citizens in Indiranagar too, have been involved in holding vaccination camps to give jabs to as many as they possibly can. Sneha Nandihal who's a city-based activist & a member of Indiranagar Residents' Welfare Association, says that their group arranged a vaccination camp on Saturday & successfully vaccinated close to 1,200 people.
These were just some of the examples of the examples that the citizen groups and volunteers have been doing to make the Covid-affected lives a little easier. These groups are doing incredible jobs, giving everything to covid relief. If you know of any such people, tell us in the comments below. If you enjoyed this article, visit the space for more such content! Stay Safe!