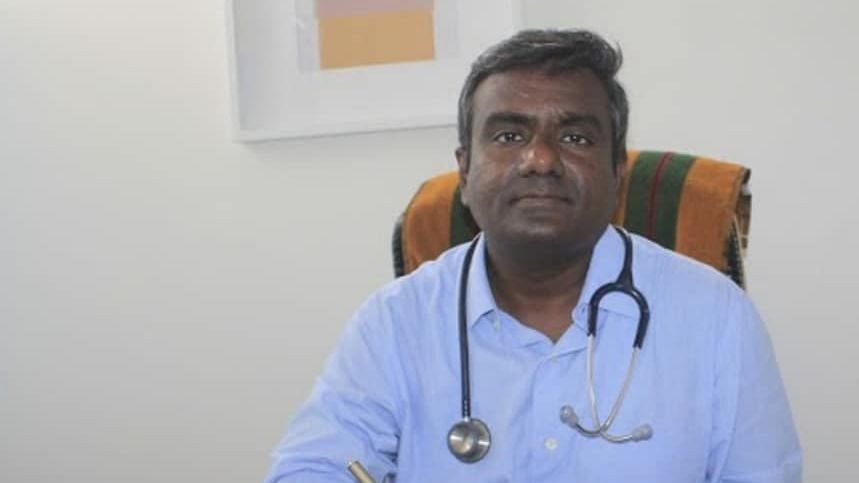 Dr. Victor Emmanuel is treating poor patients at Rs. 10, in his clinic which is in Boduppal in Hyderabad. He did not just start doing this but has been practicing this since 2018. The sole purpose of doing this is his intention to provide his service at affordable prices in the economically lower classes of society. The doctor also provides the patients with required medications.
Here, people with white ration card / food security card are charged Rs. 10 and soldiers & their families are provided with his treatment for free. He said that he had started the clinic with his sole purpose being providing affordable treatment to the needy. But apart from these, the clinic also provides similar services to farmers, orphans, acid attack victims, and disable people.
Amidst the Covid-19 surge in India, many hospitals have been asking for huge amounts of money and healthcare has essentially become even more inaccessible for the people. During such tough times, Dr. Emmanuel has been treating his patients just at Rs. 10 and has been also providing medications and help with home isolations.
The doctor said that his clinic has treated more than 20,000-25,000 Covid-19 patients over the last one year. They are now treating close to 100 patients per day. When the cases were on a surge though, the clinic used to be operating till past mid-night as he was treating more than 140-150 patients daily.
This clinic is basically For the Patients, by the Patients. He was initially hesitant about operating while charging just Rs. 10, but gradually, people identified the clinic as one for the patients, by the patients. He charges the 10 rupees and doesn't treat for free as he does not want the patients to feel like mercy is being shown to them owing to their financial conditions. When they visit the clinic, they pay their Rs. 10 and get themselves checked and walk out with dignity, knowing that the doctor didn't treat them out of mercy.
One incident in particular changed the doctors' perspective towards treating patients. He once witnessed a woman begging on the street in front of a hospital as she needed to buy medicines for her husband who was then under treatment in the ICU of that hospital. Witnessing this, changed him. This is when he made the decision to treat the poor and needy. He said that all throughout his journey his friends and family have been incredibly supportive; his wife too, who is a doctor herself.
He concluded saying that in the times of the pandemic, they are trying to feed the poor under the platform 'Sneha Hastham'. They are also about to open a charitable hospital to provide a bigger number of people with the treatment costing Rs. 10.
This was about the doctor who is providing his treatment to needy patients at the lowest of costs. Such giving people are incredibly hard to find in these times. If you know of any such individuals doing great deeds and helping the needy, tell us in the comments below. If you enjoyed this article and want more such content, do the visit the space!
Stay Safe!