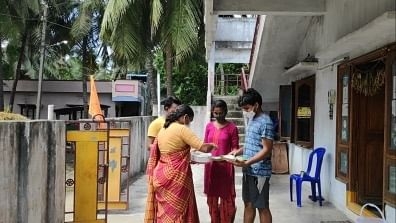 From afar, this middle-aged couple in Andhra Pradesh is no different from the rest of thousands of couples who are currently going through tough times in this pandemic. In fact, Kasi Annapurna tested positive once & her husband, G Srinivas two times, in the past year. But this only motivated them further to put in their best efforts to help the residents of K Jagannadhapuram village in the district of East Godavari.
Their family got hit by Covid-19 early this year after Srinivas' brother returned from Rajasthan. The family soon moved into their ancestral home. They did so as most of the government isolation centres were closed down after the first wave of the pandemic.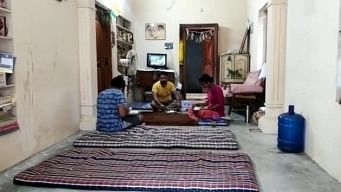 But as the second wave surged, this Andhra couple decided to convert their expansive ancestral home into a makeshift isolation ward for those in need of it, for those who did not have enough space at their house & needed to isolate themselves. After the couple were fully recovered, they decided to turn the home into an isolation centre who needed space to recover. They made all the arrangements for Covid positive patients. They arranged their food, steam inhalation facilities and medications through local government services offered.
Ever since they started, this home has been a temporary refuge of sorts to at least 15 people at given point in time who needed to go into isolation. The couple with help of their extended family arrange food & nutrition for patients testing negative in 2 weeks.
This couple is not only helping patients by providing an isolation ward but they are also taking care of other villagers with food, and assistance and making arrangements for the last rites of those who succumbed to the virus. This is not the first time this family is helping the locals, but it has been since many years whenever hit with natural calamities. Annapurna gives all the credits of their humanitarian efforts to her late mother in law. She was the one who used to open the doors of their home to the less fortunate people whenever natural calamities struck the area to help them & provide shelter. The village of K Jagannadhapuram with a population of close to 4,000, is located in the Konaseema delta region of East Godavari district. It is extremely prone to flooding during monsoons & also to cyclones.
This was a little about this incredible couple hailing from Andhra Pradesh who opened their own home to those in dire need of a space to be in isolation. Not many would do that for strangers in this day and age, especially in these times. The couple should be given due credit for making this facility happen for those in need right now. If you know of any such people doing their bit to help the society right now, tell us in the comments below. If you enjoy such content, do visit the space for more! Stay Safe!