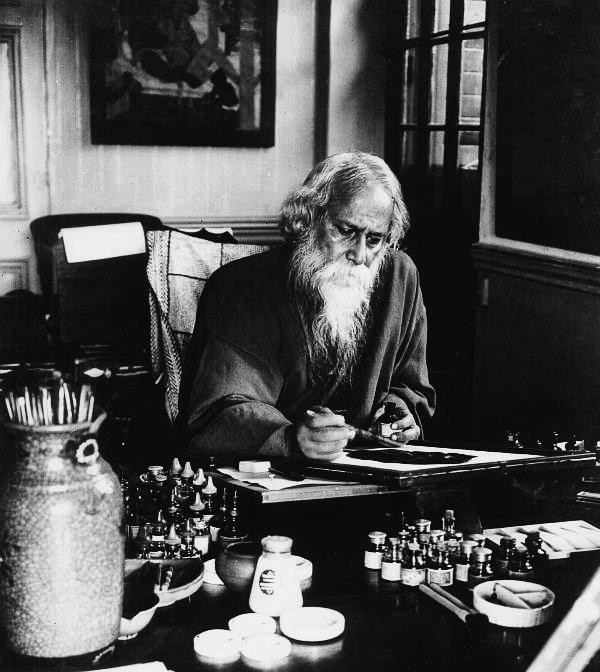 As we all know, Rabindranath Tagore was someone who is believed to have reformed the entire Bengali literature & music. Moreover, he was also a major individual to have a hand in shaping Indian art via contextual modernism. To this day, all of his written works like his poetry, novels, short stories & essays are widely read and loved all across the globe. He was truly a polymath.
The Bard of Bengal- Rabindranath Tagore, was born Robindronath Thakur in a family that was at the head of the Bengali Renaissance. He was born on the 7th of May 7 1861, in Kolkata to Debendranath Tagore and Sarada Devi. He started writing poetry at the mere age of 8 and published his first collection at the age 16 under pseudonym 'Bhanusimha'. He was the first non-European person to win a Nobel Prize in Literature in the year 1913 for his selected poetry collection, 'Gitanjali', which was originally written in Bengali and then translated to English.
Here are some of the most intriguing quotes by him that I came across –
"It is very simple to be happy, but it is very difficult to be simple."
"Life's fulfillment finds constant obstacles in its path; but those are necessary for the sake of its advance. The stream is saved from the sluggishness of its current by the perpetual opposition of the soil through which it must cut its way. The spirit of fight belongs to the genius of life."
"I have spent a fortune travelling to distant shores and looked at lofty mountains and boundless oceans, and yet I haven't found time to take a few steps from my house to look at a single dewdrop on a single blade of grass."
"With begging and scrambling we find very little, but with being true to ourselves we find a great deal more"
"The song I came to sing remains unsung to this day. I have spent my days in stringing and in unstringing my instrument. The time has not come true, the words have not been rightly set; only there is the agony of wishing in my heart . . ."
"Melody & harmony are like lines and colours in pictures. A simple linear picture may be completely beautiful; the introduction of color may make it vague and insignificant. Yet color may, by combination with lines, create great pictures, so long as it does not smother and destroy their value."
"When I think of ages past that have floated down the stream of life and love and death, I feel how free it makes us to pass away."
"God, the Great Giver, can open the whole universe to our gaze in the narrow space of a single land."
"The danger inherent in all force grows stronger when it is likely to gain success, for then it becomes temptation."
"By unrighteousness man prospers, gains what appears desirable, conquer enemies, but perishes at the root."
These were some of my favourite quotes written by Tagore. His words still move me to this day whenever I pick up any work of his. He is and will remain one of my favourite writers to this day. The way his words have moulded me is impeccable. Remembering his quotes was one of the best ways we could have celebrated his 160th birth anniversary. Tell us in the comments below which one is your favourite quote or piece of his. If you enjoyed this article, do come back for more such content!