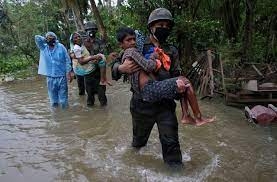 Close to 1,100 villages had been flooded by the storms. These have left at least 50,000 people homeless..

Thousands have been left homeless after
cyclone Yaas
stormed the eastern coast of India and immersed hundreds of low-lying villages of West Bengal & Odisha, triggering an evacuation in these villages. In West Bengal, the Midnapore & Shankarpur were the worst hit as cyclone Yaas severely damaged homes & uprooted trees.
Seawater also entered Shankarpur village, forcing people to leave homes to seek shelter other places. Putul who is a resident of Shankarpur had to move to some relative's place after the cyclone washed away his house. He said he was surprised to see the level of the water as it rose to the "severe" level. This was the first cyclone of such severity that he'd ever witnessed. They lost belongings like documents when their house was flooded. This was a seriously devastating & shocking time for him.
Taps Bera, another resident in the village said, it will take more than a year to return to a relatively normal life. He's currently moving to a new village along with his family.
Apart from Midnapore and Shankarpur, the cyclone also impacted Bankura, South 24 Pargana and Jhargram districts in West Bengal. Packing gusts of up to 140 kph aka 87 mph, cyclone Yaas made landfall on Wednesday. The latest bulletin by the IMD said that it has now weakened into a deep depression and will continue being that way. It is likely to move north-westwards and weaken into a depression during the next 12 hours, said the weather department.