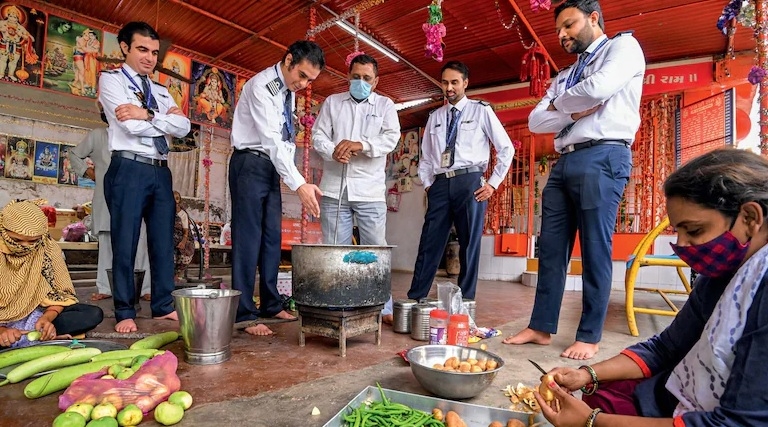 A pilots' group located in Ahmedabad donates funds & medical supplies to those who are in need.
This April the state governments all over India imposed lockdowns to try to contain 2nd wave of the pandemic. In this situation, Captain Ankur Suri, an Airbus pilot with IndiGo, (based in Ahmedabad) wanted to contribute help, along with his colleagues. That was when Suri's school friend hailing from Bhopal, Rahul Kothari offered to help.
Mr. Kothari being a state level office bearer with BJP in MP was helping those in need with hospital beds / medicines. Mr. Suri had announced on the school WhatsApp group that he along with his colleagues were looking to financially help the needy, Kothari took him up on his offer, asking for help in buying oxygen concentrators. Mr. Suri posted this on his pilot's group in Ahmedabad, which had close to about 120 members. Within some time, donations worth Rs 1.5 lakh were collected, with which Mr. Kothari to bought 4 concentrators. Mr. Kothari's organisation named Sarokar, has now got 40 concentrators. It provides patients in critical times during which they waiting for a hospital bed.
The next call to Suri was from one more of his class mates – Mr. Gaurav Pardhi, fome MP's eastern district of Balaghat. He helped in the battle against Covid in MP's rural areas & set up a 15 bed hospital. This pilots' group contributed to buy oxygen cylinders & got them delivered to Balaghat.
They, by now, had got the name
'Team Ahmedabad'
. Many times, medicines like Remdesivir were also picked up from parts of the country & got them delivered them to patients located in different cities. Mr. Suri said, "When there was an acute shortage of Remdesivir, I found a few vials in a city in Punjab. The medicine was flown in through multiple flights and reached Bhopal the same evening for a school friend."
The pilot's group recently sent medicines for villages in Raisen & Bhopal in Madhya Pradesh. The group has now set up a kitchen for families of the patients admitted in the hospitals in Ahmedabad. Mr. Suri also said, "Most people who want to help don't know how to go about it. All those to whom we have provided financial support are people I have known from childhood. I know they are doing genuine work."
This was a little about Team Ahmedabad who are working so hard to help those in need of it. If you know of any such inspiring people who are providing help to the needy in these difficult times, tell us in the comments below. If you enjoyed this article, do visit the space for more!