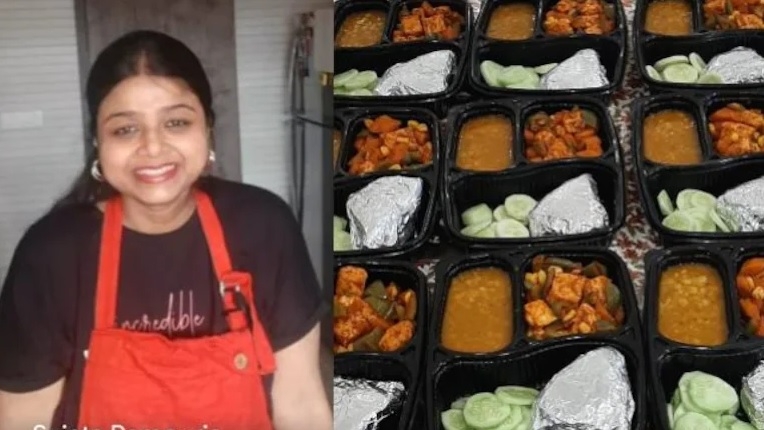 Sujata Rampuria, a home-chef hailing from Kolkata, cooks meals for Covid patients herself, free of cost.
In this dire situation that India is facing, there are people who're helping others, expecting nothing in return. This story is about Sujata Rampuria who is 39 years old and a home-chef from Kolkata. She is feeding Covid patients in her area. She cooks lunches & dinners and gets them delivered to houses of Covid patients completely free of cost!
Sujata prepares close to 20-24 meal s each day but on a 24 hour prior notice. What motivated her to do this is the pain around all of us. She and her husband are doing everything to do their bit towards the situation. This is the best way to give back to the society. Sujata's friend, husband and kids help her out in this. But, she says that since she prepares the food herself, she does need the orders place before 24 hours.
She uses Uber Connect and Swiggy Genie for the deliveries. She doesn't have people to deliver it. She herself bears the cost of the delivery. They do not expect the patients to come out of their houses to pay.
The meal that Sujata provides has one green vegetable rich in fibre, dal high in protein, roti / rice & lastly, salad. They also have idli sambhar & veggie khichdi sometimes. All meals are pure vegetarian. Her friends & neighbour have been down with Covid-19. She'd helped them out. That's when she realised that this should be done for more ones in need.
She says that as most of us are living in nuclear families, having close to no help and no family around. In such situations, if anyone gets infected with the virus, there is nobody to cook nutritious food for the patient and the family. In a situation like this, initiatives like Sujata's play a huge role for the well being of such families.
Sujata's husband, Jeetu Rampuria and her parents too, are helping her out in this. They provide lunch and dinner in and around Park Street, within 3-5 km of radius.
The challenge she faces though is just the lack manpower. It's been more than a month since she started. There aren't many challenges, just the shortage of staff more than anything else. As she cooks the food herself, she doesn't believe in getting food cooked / outsourced. After her friend recovered, she has been helping her cook in the kitchen. When the orders are more, she gets her parents to help her out.
For Sujata, her biggest incentive is the messages she receives from Covid-19 patients thanking her. She said that those messages make her day. When elderly people message and say that they managed to eat food because of her. There are people who've messaged her saying that we never knew that vegetarian food could be so tasty.
This was the inspiring story of Sujata from Kolkata who is trying her best to help those in need in this peak of the pandemic. If you know of any such story, tell us in the comments below. If you enjoyed this article and would like more like this one, do visit the space!