3 college-going students hailing from Cooch Behar - Koushik Chakraborty, Nilanjana Dey Sarkar & Adipto Paul, have been helping Covid patients connect with verified resources.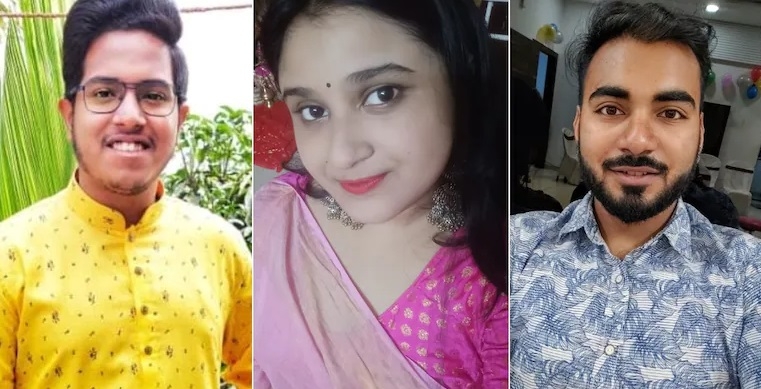 As India has been battling the second wave of the pandemic, a few Covid warriors have become a beacon of hope in such desperate times. The situation is grim & people are losing loved ones to the virus. However, few messiahs are coming forward to help strangers selflessly. A few such heroes are these 3 final year students - Koushik Chakraborty, Nilanjana Dey Sarkar & Adipto Paul, hailing from Cooch Behar, who is helping people look for verified leads regarding hospital beds, blood/plasma, medicines, oxygen, ambulances, food, etc. for the infected family.
The Initiative - Nilanjana, Koushik and Adipto are all a part of the North Bengal Student Youth Network aka NBSYN initiative, and are giving their personal numbers to those suffering from Covid-19. These students were studying in Kolkata but had to return to Cooch Behar due to Covid.
When the crisis started, Koushik was trying to help people on his own with the resources he found on social media. But he later joined the group, after which they started connecting the patients & their families with verified sources that provide oxygen, ICU beds, meals, etc.
Nilanjana said that they formed the North Bengal Student Youth Network (NBSYN) so that students could come together who are from different areas to help those affected by Covid. They study in Kolkata where the situation is worsening there every single day. They started only by sharing bed availability or any information that they came across online. Then they came across the NBSYN group and started contributing by helping patient parties with verified leads for hospital beds, medicines, oxygen availability, etc. They help the patients by connecting them with a lead.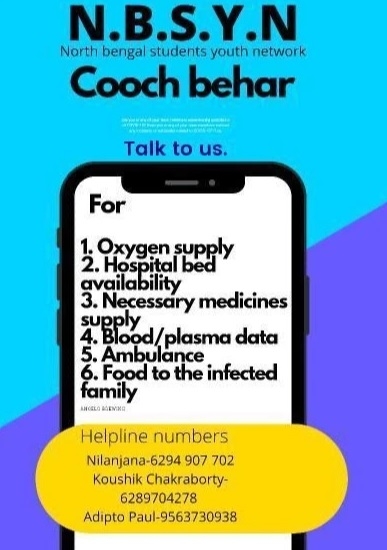 Koushik added that patients aren't in the mental state to source verified information. This is where they step in as volunteers, connecting them with people who can help with medical assistance. He also said that they first began making a team that'll help people in the neighbouring areas like in Dinhata or remote areas in Bengal, as the Covid-crisis hasn't been highlighted very well here. The tests too, are being conducted incorrectly, and people don't get reports on time.
They decided to form a volunteer group online, helping people in North Bengal and then they sourced a list of verified information. After helping out 5-6 people here, they increased the operation and put their numbers online. They mostly got SOS calls from Kolkata because the cases are rising rapidly there. They receive calls from extremely remote areas in Kolkata right now. To make sure that the information is going to be helpful to those in need, the 3 students say that before giving the details, they call up the numbers themselves, to verify authenticity. Adaptor personally calls all the numbers himself and verifies them before sharing them with patients or their families.
This was a little about these 3 college students who are doing everything they can to help those in need. If you found this story inspiring, and know about any such groups, tell us in the comments below. If you would like more such articles, do visit the space for more such content!