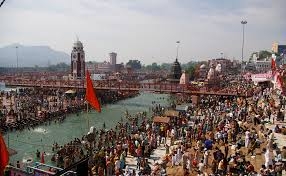 A central public health team that had visited the event noted that 10 to 20 pilgrims and 10 to 20 locals are being detected positive every day in Haridwar.
The daily observed counts of fresh Covid cases amongst the pilgrims & residents at the Kumbh Mela in Haridwar could rapidly rise into a full-fledged surge, India's health ministry warned on Sunday, also expressing concern that the site had inadequate amount of testing facilities. The ministry said a central public health team that had visited the Kumbh Mela had noted 10-20 pilgrims and the same amount of residents have been testing positive daily in Haridwar, where about a million people are expected to assemble for dips in the Ganga daily till the 30th of April.
This assumes the significance given Chief Minister of Uttarakhand Tirath Singh Rawat, stating that a negative COVID-19 test wouldn't be a requirement for those intending to visit Haridwar.
The government has been advised to scrupulously follow the guidelines by Health Ministry such as adding the display signage's, increasing awareness of self-reporting symptoms of cases which may be indicative of COVID, to increase the testing, mainly the in potential high transmission areas, continuing the periodical testing of the frontline workers before & after the main auspicious days of the 30 day long festival. Were the no. of cases to surge, the State ought to be promptly sending samples for the genome sequencing.
In January, the health ministry had given out guidelines for the Kumbh Mela, requesting the Uttarakhand government to ensure that only pilgrims who carry negative PCR test reports, obtained within 72 hours before their arrival in Haridwar, to be allowed inside the Kumbh Mela.