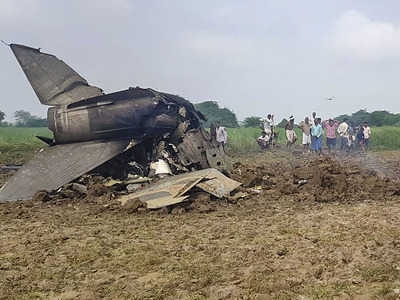 The pilot - who is identified as Group Captain A. Gupta, was taking off from airbase in central India for a combat training mission when this accident took place.
A group Captain in the Indian Air Force was killed in a MiG-21 Bison aircraft accident when taking off for a combat training mission at an airbase in Gwalior – said the IAF on Wednesday.
The crash in which Group Captain - Ashish Gupta was killed is the 2nd accident which involves a Bison aircraft this very year. A MiG-21 Bison crashed near Suratgarh, Rajasthan on the 5th of January, but the pilot was safely ejected. He was posted at the IAF's elite Tactics & Air Combat Development Establishment aka the TACDE.
IAF tweeted - "A MiG-21 Bison aircraft of IAF was involved in a fatal accident this morning, while taking off for a combat training mission at an airbase in central India." The MiG-21 was just upgraded to MiG-21 Bison in 2000. Experts say it's a reliable aircraft but coming to the end of service life.
Air Marshal Anil Chopra, the team leader of MiG-21 upgrade programme said -"The upgrade in 2000 was significant and essentially on avionics, radar, electronic warfare suite and weapons. The aircraft is very safe to fly, has had a good safety record and will see IAF through till 2023-24."
In February, the defence ministry awarded a ₹48,000-crore contract to Hindustan Aeronautics Limited for 83 LCA Mk-1A jets for the IAF. The 1st Mk-1A aircraft will be delivered to the air force in 3 years, and the others would be supplied by the year 2030. The chief Minister Shivraj Singh Chouhan & the Rajya Sabha MP Jyotiraditya Scindia paid homage to late pilot.