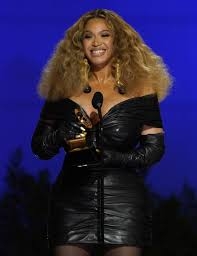 Beyonce made Grammys history on March 15 by becoming the winningest woman in the history of the music industry's top awards gala, and its most deserving artist with a total of 28 career wins.
She secured the record after winning the Best R&B Performance for Black Parade, her single celebrating Black culture & activism that dropped at the time period of the mass protests in summer 2020, due to the death of George Floyd in police custody.
"I am so honoured. I'm so excited. Thank you," said the singer, who made a surprise showing at the gala she has skipped for the past several years, wearing a chic black leather dress. "As an artist, I believe it's my job and all of our jobs to reflect the times. And it's been such a difficult time," added Beyonce.
"So I wanted to uplift, encourage, celebrate all of the beautiful Black queens and kings that continue to inspire me and inspire the whole world."
"It's such a magical night, thank you so much," Beyonce said expressing her gratitude towards her kids after Blue Ivy, won her very 1st Grammy for the music video "Brown Skin Girl." "I'm so honoured to be your mommy, all of your mommies. Y'all are my babies. And I'm so proud of y'all. I love you so much, my rock," she said, nodding towards Jay-Z.
This is a really big moment for this 39-year-old artist - who's repeated snubs in the top award categories have raised eyebrows & also stirred up some major controversies on several occasions. She is the most nominated artist in the history of Grammys.