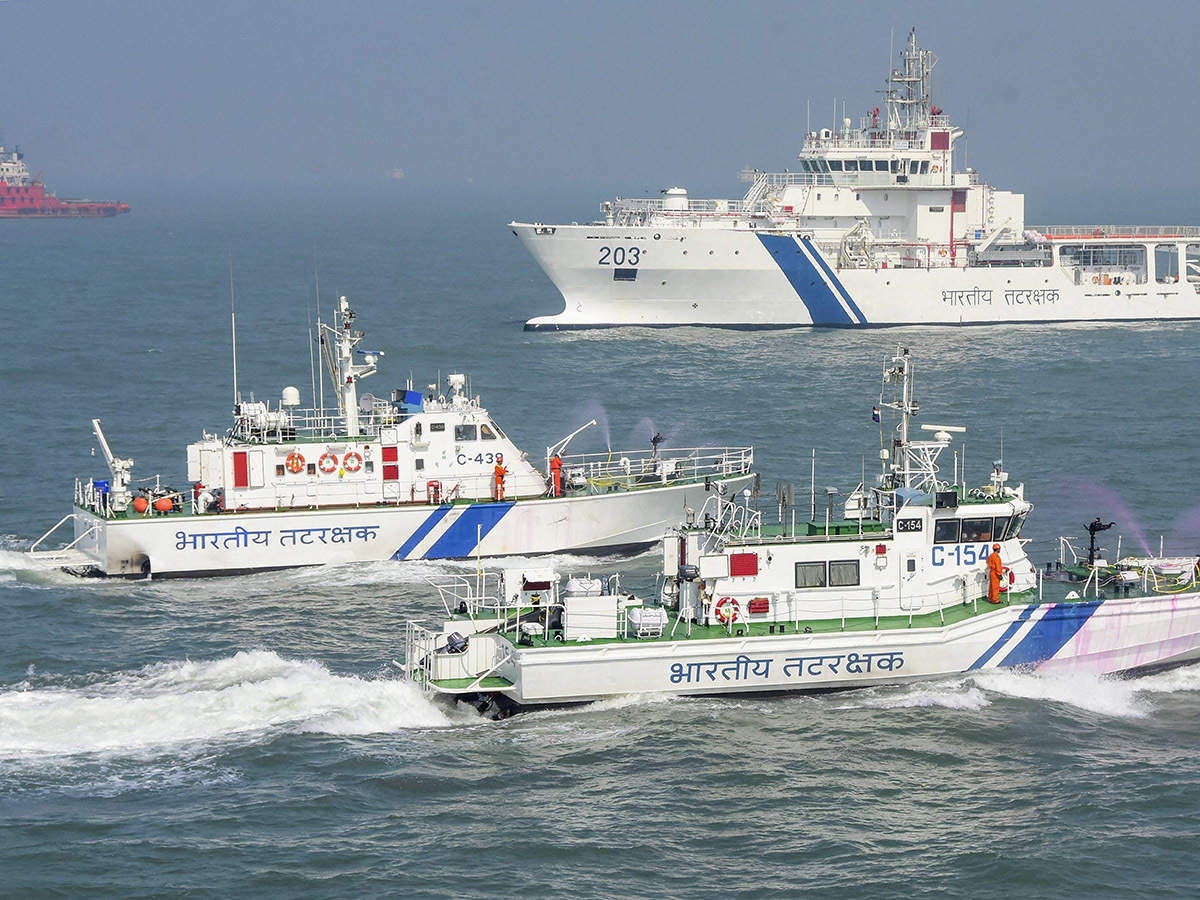 Since the
Indian Coast Guard
's beginning in year 1977, it has successfully saved more than 10,000 lives and apprehended close to 14,000 miscreants. During covid, the Indian Coast Guard maintained a vigil 24/7 inside the Exclusive Economic Zone, by deploying around 50 ships and 12 airplanes on the daily.
The Indian Coast Guard or the ICG will celebrate its 45th Raising Day today. With only s7 surface platforms in year 1978, the ICG has been able to grow into the 4th largest coast guard with 156 ships & 62 aircraft in the inventory of it. The ICG has targeted a force level of a phenomenal amount of 200 surface platforms along with 80 aircrafts by year 2025. The distant the Coast Guard covers the patrol from the shore and 12-200 nautical miles in the sea.
In 2020, ICG seized contraband worth the amount of Rs 1,500 Crore and apprehended more than 10 foreign fishing boats along with 80 miscreants illegally operating inside of Indian EEZ. Also in 2020, 11 cyclones had hit the Indian coastline and the Coast Guard conducted rescue operations and were able to save the lives of about 40,000 fishermen and escorted them back toward the shore. During the pandemic, patrolling happened round the clock and fishing boat checks were conducted, said the officer. Last year in September, the ICG extinguished a fire onboard of the 333-metre-long carrier motor tanker called New Diamond; off the Sri Lanka coast, which was carrying around 3 lakh metric tonnes of crude oil. The ICG averted a huge ecological disaster and successfully rescued 23 crew members of the tanker.
The Indian Coast Guard became the first force ever to position female officers in operational roles on board ships. Deputy Commandant Kanchan Jadhav from the Mumbai regional headquarters is among the 7 female officers who were trained to operate air-cushion vehicles; popularly known as hovercraft. Jadhav, who is a Satara resident, was a part of the second batch of 3 women trained and is the only woman hovercraft officer posted at the Mumbai headquarters.
- Kinjal Dixit