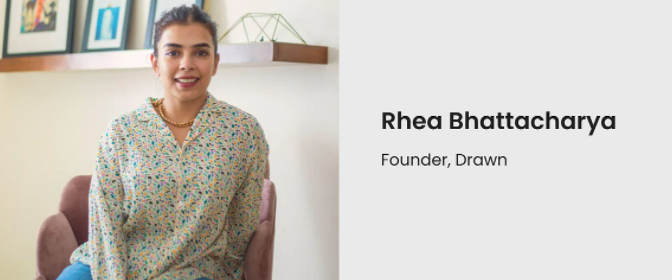 Rhea Bhattacharya, 34, founded her own apparel brand, Drawn, during the pandemic, which offers womenswear apparel priced between Rs. 3,500 and Rs. 4,500. In 2019, Rhea closed her digital marketing firm to start working towards her dream entrepreneurial venture,

Drawn

- a womenswear brand based in Gurugram.
Just as she had begun the back-end work for it like placing orders for the first batch of products to the manufacturers, she had to cancel them due to Covid-19 outbreak, and had to go back home.
She says that the brand was supposed to launch in 2020, but she was not sure how to launch a clothing label when no one was shopping and everyone was sitting at home. Factories and manufacturing facilities were shut and the general atmosphere was not the best. But eventually, people got accustomed to this new normal and overcame uncertainties arising from the pandemic, and so did her business.
In September 2020, Rhea decided to try on the apparel herself, posted some pictures, and kickstarted the brand as she got positive responses from netizens. By November 2021, it had shipped close to 2,500 orders!
Rhea always wanted to be a designer, and kept close to her passion. She worked as a fashion journalist while writing for magazines like Grazia, Cosmopolitan. She then turned to public relations, working as a publicist. This kept her connected to a lot of stylists / designers.
But she didn't see herself doing this 10-20 down the line. Having seen a good amount of backend work of fashion labels, she decided to give it a go with her own womenswear brand. As an entrepreneur and self-taught designer, Rhea did not set out to do anything "ground-breaking" but to offer every-day and comfortable clothing for women.
We have so many clothes in our wardrobes, but the options remain fairly limited, as we tend to gravitate towards the same pieces all the time. She noted this gap, and realised that many working women, especially those who are older and middle-aged, are looking for everyday wearable options that are currently limited.
This 34-YO entrepreneur started with a clear target audience in mind - working women like herself, who are between 28-45 years of age, whose earning capacities were high and stable at this age. However, Drawn found customers in young, college-going students and even a 65-year-old woman for its apparel priced between Rs 3,500 and Rs 4,500.
Sold online through the website, the brand's products will be launched at retail stores in New York and multi-designer stores in India in 2022.
It wasn't an easy path for Rhea, as she faced several challenges in the process. It was a challenge to find manufacturers who would work with small businesses, and produce smaller batches of products without charging a steep price. Even though Rhea started working with a manufacturer in her network, coordinating logistics to launch virtually and ship products has been a challenge.
In 2020, India became the 6th largest market for women's apparel in the world. This pandemic saw many small businesses and homegrown brands like Drawn, which share the market space with established brands like H&M, Zara, etc.
Now the entrepreneur is taking a conservative approach towards growth and looks to expand product categories based on sales and customer feedback, amongst other factors.