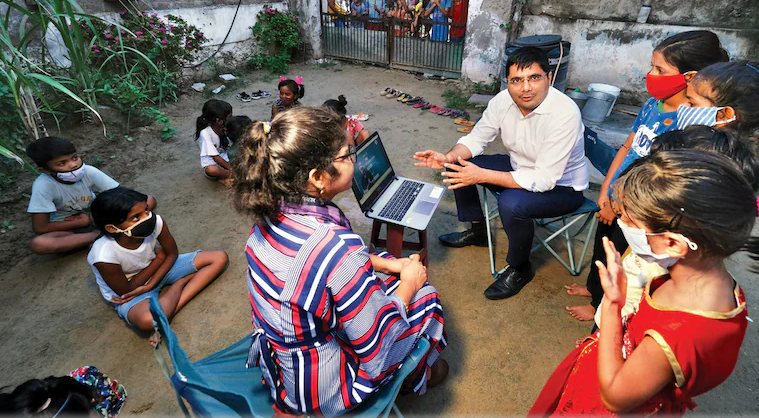 Back in 2019, Jinender Soni quit his job as a maths teacher in a popular online coaching academy, which paid him Rs. 5 lakhs a month. He built a similar facility for government school students in Jhunjhunu district in Rajasthan.
What helped his endeavour was the good availability of computer labs in the government schools in the district. The lockdown of last year prompted Rajasthan government to expand digital education for students, and his online teaching product helped.
CM Ashok Gehlot was impressed with Soni's work and the state government soon decided to provide training in online education for government teachers. The focus was finding teachers who understood dynamics of government school classrooms and could use local dialects to make students feel at home. More than 2,000 teachers submitted video clips. Of them, a 100 were chosen to conduct the lectures covering their curriculum.
Initially, the lectures were made in Hindi medium for classes 6 - 12, then in English for classes 3 - 8. Now, work is in final stages for syllabuses of remaining classes. All subjects, including optional languages like Sanskrit, Urdu and Sindhi, were covered. Lectures can be accessed in various ways: YouTube, the mobile app of Soni's Mission Gyan, and through a weblink available at Mission Gyan offices. One can even get the entire course on a hard disc from the office. The state government has distributed the video courses to 3.5 million of the estimated 8 million students enrolled online.
The selected government school teachers were initially camera shy. Soni encouraged them to make handwritten notes, which were made into slides, so lectures could be delivered without teachers needing to look at their physical notes. He got them to deliver lectures by creating a real classroom-like environment. He says he is impressed with capability, hard work of government school teachers.
The initiative has greatly benefitted Rajasthan's education system. It's been particularly helpful in cases where subject-specific teachers are not available, since students can access video lectures and study. Some schools have bought LED screens to run lectures in subjects they do not have teachers for. More and more schools are opting for LED screens to run Soni's lectures since these are more affordable than projectors.
Sourabh Swami, former director of primary education in Rajasthan, says the video content has helped government school teachers stay connected with students during lockdowns; at times, small conference groups were created to take care of the students' queries. He says the government also instructed teachers to monitor progress of students by personally visiting them during the period of closure of schools so that the learning process is not interrupted. Teachers, carrying laptops and smartphones, visited small groups of students right in their villages and towns. Since June, weekly quizzes given by Mission Gyan, covered 2.2 million students.
Soni and his team have also been preparing video content for practical classes. The state government has made 20 TB of space available on its servers for storing video lectures. Owing to Soni, a revolution is underway in school education in Rajasthan.