The moving image of the small seahorse holding an earbud in its tail, which was captured by photographer Justin Hofman back in 2016, had struck a chord with a lot of people around the world. It was a much-needed reminder of the disastrous impact plastic continues to have on our environment. In relation to this, a video of vets taking out a straw out of a turtle's nose had a deep effect on 17-year-old
Aditya Mukarji
from Gurugram.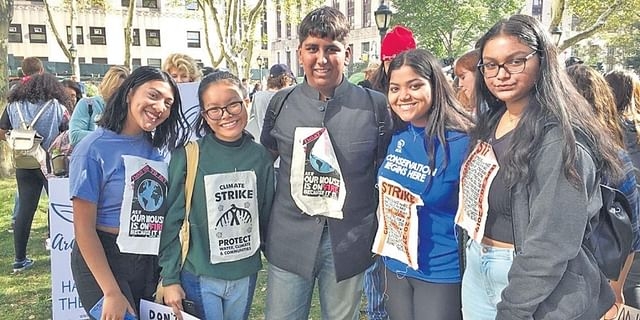 He says that the bleeding and pain caused to the turtle really impacted me, and made me contemplate the actions of human beings on the planet and the environment.
He began to deep-dive into the topic about climate change and the negative impacts of human action. Mukarji, who was volunteering at Chintan Environmental Research and Action Group then, came across the issue of single-use plastic. Hence, in 2018, he launched a campaign against plastic items, mainly straws and cutlery, used in hospitality industry.
He was studying in class 11th at The Shri Ram School, Gurugram. He embarked on a door-to-door campaign in and around Delhi-NCR, spreading awareness about the detrimental impact of plastic and to promote eco-friendly alternatives. He feels like straws are the most useless invention for the common man, having the least utility and maximum environmental impact.
According to him, the ever-growing need to tackle the issue of single-use plastic waste at its inception was of utmost importance. He ended up approaching restaurants and cafes in and around the region with a 3-item action plan - the issue, alternatives, and economic benefits for establishments to say no to single-use plastic items.
In the next 2 years, Mukarji was able to successfully avert the use of more than 26 million plastic objects. He did so by persuading almost 200 establishments to turn into environmentally friendly ones. He had called establishments countless times. After realising his passion for the campaign, many of them complied. The positive response was overwhelming.
Environmental campaign – He didn't limit himself to reduction of dependence on single-use plastics, but began working on waste management and segregation of different types of waste. He has conducted drives and visited a number of housing societies to help them change their waste-segregation policies.
As an intern with the United Nations Development Programme, for their plastic waste management programme, Mukarji secured letters of intent to segregate around 35 tonnes of waste in about a month. During the pandemic, as the head of environment in his school's student council, he also trained youngsters on how to tackle environmental issues.
Campaigning for change – When he participated in the UN Youth Climate Summit in 2019, Mukarji focused on financial flow of sustainable recovery while looking into green jobs. He was also one of the 17 global environmental activists to have been honoured by a US-based non-profit organisation, Action for Nature as a 2020 International Young Eco-Hero.
He concludes saying, "This accolade is not a personal achievement. It is rather a testimony of how much impact I could generate. Through this, I hope more people will become aware of the harmful effects of single-use plastic."
This was about Aditya Mukarji and his relentless efforts to help the environment and the animals. Comments down below your thoughts on his efforts. We need more such youngsters taking initiatives for the environment and save it from destruction. Visit the space for more such inspiring stories!