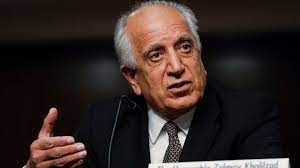 Thomas West has been appointed as new US special representative to Afghanistan, announced the US Secretary of State Antony Blinken, in a statement. This took place after Zalmay Khalilzad resigned from the post following a chaotic withdrawal of American forces from Afghanistan.
Blinken said in a statement, "West, who served on then-Vice President Biden's national security team and on the National Security Council staff, will lead diplomatic efforts, advise the Secretary and Assistant Secretary for the Bureau of South and Central Asian Affairs, and coordinate closely with the US Embassy Kabul presence in Doha on America's interests in Afghanistan." Blinken also thanked Khalilzad for his "decades of service."
He added, "As Special Representative for Afghan Reconciliation Zalmay Khalilzad steps down from his role, I extend my gratitude for his decades of service to the American people."
Khalilzad led talks with Taliban in Qatar that resulted in the Doha agreement between the Islamic group and former US President Donald Trump to fully withdraw US troops by May 2021.
He was criticised for not pressing Taliban hard enough in the peace talks.
Current and former US officials said that in the 3 years Khalilzad has been in this role, he became the face of one of the biggest US diplomatic failures recently.
US officials said that the American diplomat renounced leverage to the militant group, undermined Afghan government, and took no interest in hearing different viewpoints within American government.