Today is 15th October. A very special day for all Indians. Today is the birth anniversary of our beloved former president "APJ Abdul Kalam." He has given the "Wings of fire" to all the children in India. They are getting inspired by him each day. Children in India say, "I am kalam". Taking Inspiration from Hon. APJ Abdul Kalam, Vijnana Bharati, and Vigyan Prasar are coming with India's largest Science talent search examination: Vidyarthi Vigyan Manthan 2021 for students of India.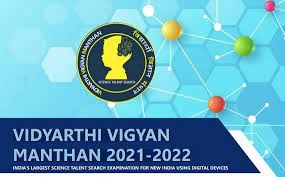 Like every year this year also, Vijanana Bharati, Vigyan Prasar, and NCERT are coming up with
Vidyarthi Vigyan Manthan (VVM)
and the preparations for the same are going on point. So many new students have participated in this year's VVM. Many students take part in this exam every year. So we wanted to ask this question to those who are a part of this exam every year. Have you registered for VVM 2021? If no then do it now, because this year, this exam is going to be even more interesting. And you all will gain so many new experiences this year.
To Register for Vidyarthi Vigyan Manthan (VVM) Click here.
Last year thousands of students have participated in this examination. Some have shared their experiences as well. One girl said, "I never knew much about Indian Scientists, I am so grateful for being a part of VVM last year because I could learn so much about Indian Science and Indian Scientists." With VVM you can take part in National Science Camp. Also, you can get a chance to win an internship or training in the largest institutes in India like DRDO, ISRO, and BARC. If you are a student of 6th -7th grade you can take part in this exam for the next 4-5 years. Isn't that amazing?
Read this too: APJ Abdul Kalam – An Advocate of Creative Education
To know more about VVM, you can visit all the social media channels of Vijanana Bharati and Vigyan Prasar. Don't forget to like these posts and share these posts with your friends. Also, don't forget to subscribe to our channel.

The Vidyarthi Vigyan Manthan exam will be conducted at three levels. Students can give the first stage examination on 30 November 2021 or 05 December 2021 at their convenience. This ninety-minute test will have 100 multiple choice questions, out of which 50 questions will be on science and mathematics, 20 questions will be on India's contribution in the field of science, 20 questions will be on Indian freedom struggle and science (in which this year there will be a special focus on the life story of Acharya Prafulla Chandra Rai) and 10 questions will be on reasoning.
The exam will be conducted in 12 languages ​​including Hindi and English, Tamil, Telugu, Kannada, Malayalam, Marathi, Gujarati, Punjabi, Bengali, Oriya, and Assamese. Students can appear for this test using digital devices connected to the Internet - such as desktop, laptop, tablet, or Android smartphone. After passing the first stage, the students will be able to give the state level examination in the second stage and after passing the second stage, they will be able to get eligibility for the national level examination in the third stage. A two-day science camp will also be organized for the selected students at the state level and national level.
Vigyan Bharti is constantly striving for the bright future of India. To participate in Vidyarthi Vigyan Manthan, register on www.vvm.org.in before 31st October.