The greatest playback singer of Indian Film Industry, Bharat Ratna, Padma Vibhushan & Padma Bhushan awardee, Lata Mangeshkar turns 91 today! Born and brought up in the family of performers, Lata Mangeshkar recorded her first song at the age of 13 in Marathi language. Unfortunately, the song was dropped out of the album at that time.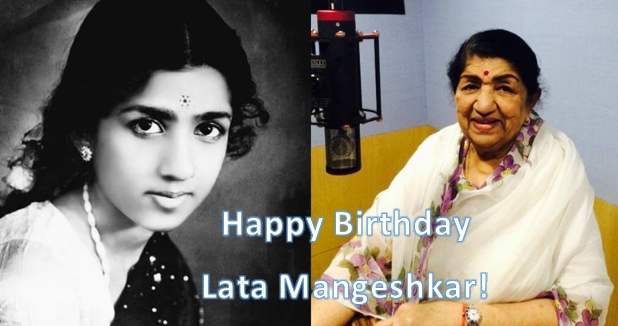 Today Lata Mangeshkar has over 25,000 songs under her belt. A true success story and an inspiration for generations to come, let's celebrate Lata Mangeshkar's birthday with some of our favorite songs.
1. Jai Jai Shivraya:
Lata Mangeshkar's divine voice praising Chhatrapati Shivaji Maharaj is listening experience at its best.
2. Ae Maalik Tere Bande Hum:
A song, a school prayer, ae maalik tere bande hum teaches the right path and gives courage to walk on it.
3. Ae Mere Watan Ke Logo:
A song with lyrics of our brave soldier's sacrifices and sung in a heartfelt voice of Lata Mangeshkar, its no wonder that the first Prime Minister of our country could not control his overwhelming emotions and cried while listening to this one.
4. Yashomati Maiyaa Se Bole:
Krishna-Leela is one of our most beautiful literature pieces and Lata Mangeshkar's melodious voice makes the scenes alive.
5. Ek Radha Ek Meera:
This song about Radha and Meera's love for Shri Krishna is sure to string the cords of our hearts.
6. Mere Khwabon Mein Jo Aaye:
To all the girls born in 90s, how many times have you danced around the house singing this one at the top of your lungs?
7. Maye Na Maye:
This one became the go to song for love-struck ones and the credit goes to both Lata Mangeshkar's voice and Madhuri Dixit's performance.
8. Gori Hai Kalaiyan:
Another favorite, 'gori hai kalaiyan' is still one of the top songs in the game of Antakshari.
9. Lag Jaa Gale:
A song describing love and heartache at the same time, Lataji's voice takes it to another level all together.
10. Pyar Hua Iqrar Hua:
A song that will always keep the duo of Raj Kapoor and Nargis alive, this one will always remain in our hearts.
11. Ajeeb Daastan Hai Yeh:
A song trying to depict the riddle that's love. Ajeeb Daastan hai yeh will always be top most during heartaches.
12. Tu Kitni Acchi Hai:
Admit it, at one point or another, we have all used this one to butter our mothers!
13. Ek Pyar Ka Nagma:

Lata Mangeshkar's soulful voice in this one takes you in another world.
14. Zindgi Pyar Ka Geet Hai:
Another beautiful song by Lata Mangeshkar, this one always helps to lift our spirits.
15. Luka Chuppi:
Another soulful melody by Lataji, filmed on Vaheeda Rehman, this one is sure to leave you in tears.
We wish Lata Mangeshkar a Happy Birthday!