Shaheed Bhagat Singh was born on September 28 in 1907, in Banga village of Punjab Province of British India in a Sikh family. He is one of the many young faces of Indian revolution who dared to shed their blood for the freedom of their motherland from the clutches of the British Raj. Bhagat Singh had studied in the National College of Lahore, started by Lala Lajpat Rai and was a very active student. Today, on his birth anniversary let us try to know a little bit about his ideas and thoughts which revolutionized the Indian youth even after martyring his life for the country.
1. Inquilab Zindabad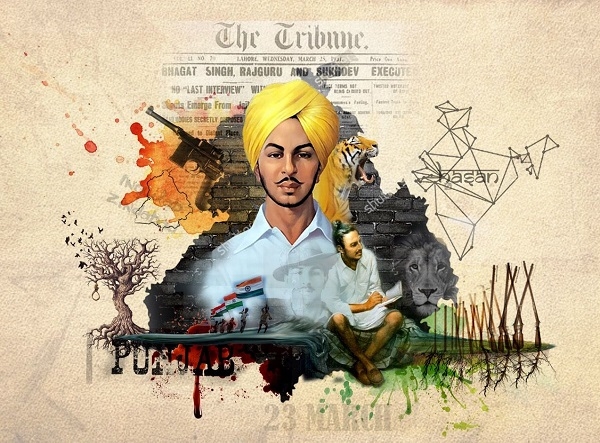 Bhagat Singh and Batukeshwar Dutt made a plot to bomb the Central Legislative Assembly to protest against the unfavourable Trades Disputes Bill. He and his partner threw two bombs and pamphlets inside the Assembly hall and with echoing slogans of "Inquilab Zindabad!" The phrase Inquilab Zindabad literally translates as 'Long live the revolution' and was aimed at shouting out at the British rulers that the revolution against their oppressive rule has started and it won't end soon, not before the end of British Raj in India.
2. Himsa and Ahimsa, both were his tools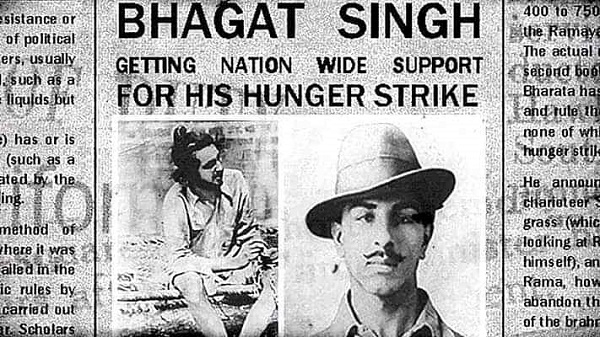 Although, Bhagat Singh is famous for his use of weapons to attain freedom, it is not much known that he practiced Himsa and Ahimsa both for the motive. After bombarding the Assembly hall with his partner Batukeshwar Dutt, Singh was arrested and imprisoned. During this imprisonment, Bhagat Singh observed a 116 days of fast in the jail. He did so because the rules in British Raj for prisoners too were divisive for Indian and British prisoners. He fasted for all the time in jail to demand equal political rights for British and Indian political prisoners.
3. His letter to Irwin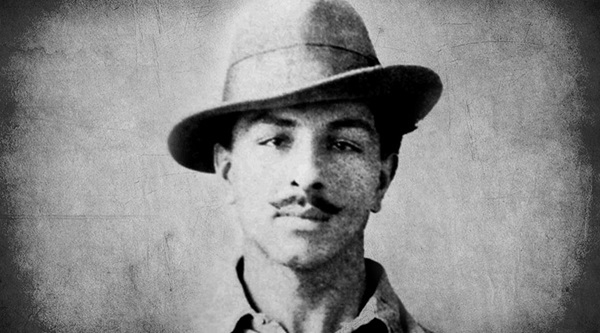 Bhagat Singh was utterly dedicated to the idea of an India free from the British rule and he considered himself no less than a soldier filled with patriotism in his heart for his mother land. So he was also determined to die a death of a soldier. When he was in prison, he along with two others had written a letter to the contemporary Viceroy of India Lord Irwin, where they had demanded to be treated as Prisoners Of War and consequently to be executed by firing squad and not by hanging.
4. Believed in revolution of thoughts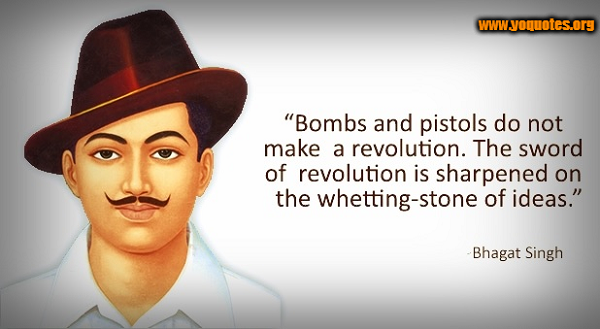 He is known as an extremist face of Indian revolution and often associated with an armed revolution, but it was only a fragment of the varied thoughts of a strong personality. About this he has also quoted that "Revolution is not brought by pistol, bomb and sword, but it is evolved by the dignity of our thoughts." He definitely chose the path of arms against the oppressive British rule. But he was seeking for a more deeper nature of revolution to evolve among the youth.
5. Sarfaroshi ki Tamanna and Bhagat Singh's inspiration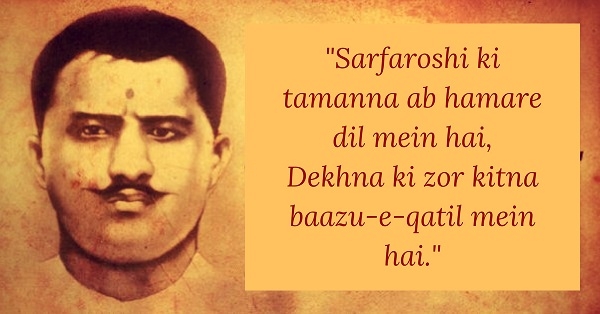 Many people associate the verse of 'Sarfaroshi ki Tamanna' with Bhagat Singh, however, not many people know that his verse has played a vital role in motivating Bhagat Singh to sustain and carry forward the flame of revolution. the verse was not written by Bhagat Singh. It was written by Ram Prasad Bismil, who was hanged in 1927 for being involved in Kakori Train Dacoit conspiracy. What the entire phrase meant was, " The desire to make a sacrifice is in our hearts. Let us see what strength there is in the arms of our executioner." These words of Ram Prasad Bismil instigated the feeling of revolution in the heart of young Bhagat Singh and directed him towards the actions followed.