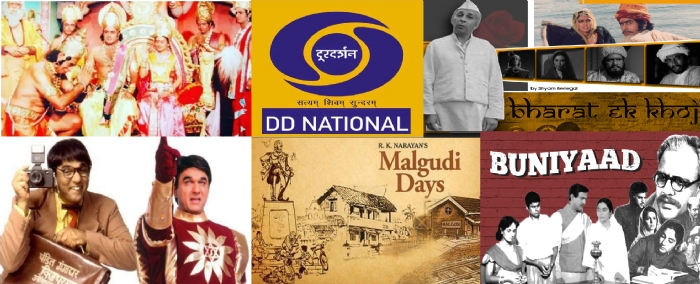 Once upon a time, when there were no Netflix, Amazon Prime or Disney Plus; once upon a time, when there were neither saas-bahu dramas nor Star Plus & Colors; when the television boxes were big and the screen sizes were small; there was a single channel which united everyone. The meaning of late night weekends was different in those times when the whole family and even earlier, whole societies would gather around on Saturday nights to watch a movie. It motivated youngsters to wake up early on Sunday morning to watch Rangoli and kids to watch Mowgli. Doordarshan is not just a TV channel it was bridge between generations!
Even today, when the world is fighting pandemic coronavirus and the ways of entertainment became limited, Doordarshan came to the rescue and became most watched channel during lockdown. Today, our beloved Doordarshan turns 61, so let's remember some of our old favorites!
1. BHARAT EK KHOJ: With a powerful cast of Om Puri, Naseeruddin Shah, Ila Arun, Surekha Sikri, Piyush Mishra and many more, Bharat ek Khoj made history learning fun! Based on the book 'Discovery of India' by Pt. Jawaharlal Nehru, this show educated us about the rich history of our nation.
2. BUNIYAAD: Based on the partition of India and Pakistan, Buniyaad is one of the serials that returned to Doordarshan during lockdown period. Relatable characters, tense situations and emotional drama, Buniyaad was a hit show and became a household name.
3. MALGUDI DAYS: 'Ta Na Na Ta Na Ta Na Na…' need I say more? Whether you got Malgudi Days or not, whether you watched it religiously or didn't, the beautiful music and almost haunting tone of the title of this show will be remembered for the eternity!
4. SHAKTIMAAN: Before the Avengers and Justice League became the trend, it was our very own desi Superhero who used to save the world! Mukesh Khanna starrer Shaktimaan is imprinted on the minds of 90s kids and no amount of Christian Bale's deep voice saying 'I'm Batman' or Captain America's 'Avengers assemble' can sway us!
5. RAMAYANA: A show that made cities look like haunted places on Sunday mornings, a show which made people glued to their TVs, a show which created a pin drop silences in every house (apart from quite sniffing every now then); Ramanand Sagar made, Arun Govil and Deepika Chikhalia starrer Ramayana has pretty much the same effect even today!
What are your Doordarshan memories? Do let us know in the comment section below.