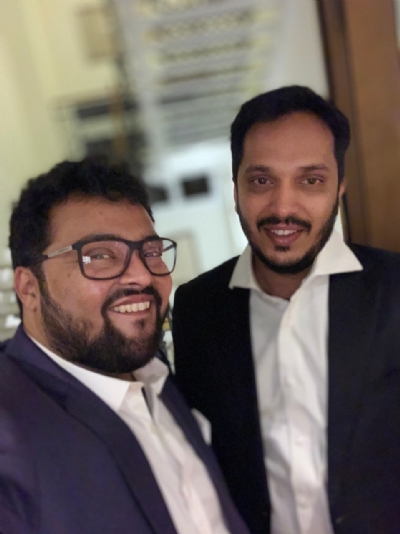 Shashwat and Jaymin, two friends who decided to become co-partners, entrepreneurs. Jaymin's former work experience in investment banking helps solve their financial puzzles. He has further worked in business and marketing teams at Google, Hindustan Lever and Reliance Brands. Shashwat on the other hand, comes with 9 years of rich experience in branding, advertising, production and all things creative. Starting from Madison MATES and then stopping over to Fox Studios, he has successfully achieved benchmarks with many brands across categories. So, with the combination of their vast knowledge and a wealth of experience in films, entertainment, marketing and brand building; Shashwat and Jaymin founded first of its kind startup - Ease Your Life!
India's first and only hyperlocal brand Ease Your Life was established four years ago. It provides a multi-service hyperlocal approach. Their offerings include pick up-&-drop to ordering food, household repairs, shopping, banking assistance and just about anything under the sun. It is an all-in-one solution accessed via your phone, available in Mumbai and Delhi.
All you need to do is place your service request through one of the many ways to reach them - the Ease Your Life app, their website, over a phone call or even a WhatsApp message. "The operation model is pretty simple - You have a task? Ease Your Life will do it for you. It could be as elementary as fixing a broken pipe or something unusual like getting a 5-kg wedding cake halfway across the city last minute," explains Shashwat Bhatt, Co-founder at Ease Your Life.
The bouquet of services that the startup provides is ideal for millennials who are busy professionals and citizens who live alone (especially the elderly). EYL is also a great fit for homegrown brands and small-scale entrepreneurs who need a reliable logistics partner. "We further categorize this into home entrepreneurs, bakers, small businesses, restaurants, doctors, production houses and individuals and provide them with end to end logistics to help grow their businesses," informs Jaymin Trivedi, Co-Founder of EYL.
Their other business is a brand solution company Elements Mediaworks, which is a flourishing integrated agency that offers services across the entire brand building, strategy and innovations - both offline and digital. They specialize in detail-oriented brand communication and have earned a reputation for doing great work across multiple platforms for brands like Reliance Jio, Diageo, Tata Group, and many others.