Two months since Sushant Singh Rajput's death, what has happened so far...
|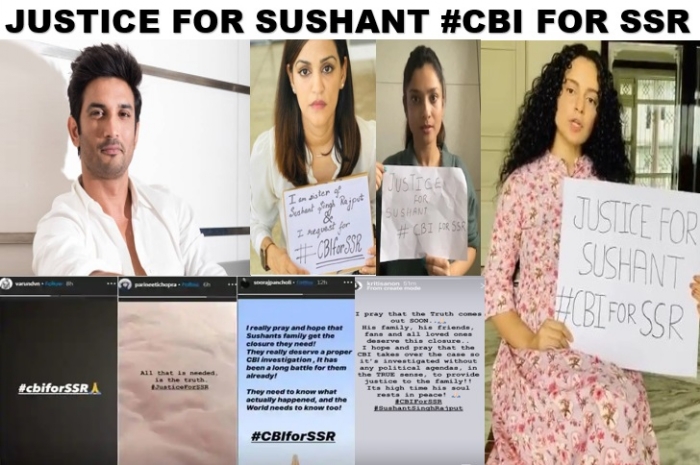 Today marks two months since Sushant Singh Rajput was found dead in his apartment in Bandra. There has been endless allegations and theories about what may have happened but we are still nowhere near the truth. We are long way from truth but let us look at everything that led up to late actor's death and the investigations that happened after.
February 25, 2020
June 8, 2020
Sushant's manager Disha Salian allegedly committed suicide by jumping from the 14th floor of her building in Malad, Mumbai.

Rhea Chakraborty left Sushant Singh's apartment and there wasn't any contact between them afterwards.

Sushant googled three topics multiple times – Disha Salian, news reports about him and mental illness.
June 13, 2020
June 14, 2020
At 2 AM in the night, Sushant called Rhea Chakraborty and another TV actor Mahesh Shetty, both calls were unanswered.

Sushant googled topics like – Schizophrenia, Bipolar disorder & painless death.

At 9 AM Sushant spoke to his sister.

At 10 AM he took his tablets with a glass of juice.

At 11.30 AM Sushant's cook knocked on actor's bedroom door to confirm lunch menu, when unanswered for a long time, he first called a lock smith and then the police.

Police reached but did not seal Sushant's apartment.

Sushant's body was taken down before the ambulance arrived.

Sushant's body was supposed to be taken to Lilawati Hospital (it was the nearest) but instead it was taken to Cooper hospital which was quite from the actor's apartment.

No suicide note was found.
June 15, 2020
The last rites were performed at Pawan Hans crematorium at Vile Parle by Sushant's father K.K. Singh, his sisters, brother in law and nephew.

Director Mukesh Chhabra; actors Shraddha Kapoor, Kriti Sanon, Rhea Chakraborty, Abhishek Kapoor, Vivek Oberoi, Randeep Hooda, Pratiek Babbar and Singer Udit Narayan were also present at the time.
June 16, 2020
Three tweets went viral on social media. It was said that these were last 3 tweets by Sushant and had deleted those after some time. The language and tone of these tweets indicated that Sushant was in severe depression and suicidal. But after further investigation it came to light that it was made up story and no such thing had happened.
June 17, 2020
Advocate Sudhir Kumar Ojha filed a complaint against 8 Bollywood celebrities in a court of Chief Judicial Magistrate claiming that these people did not let Sushant's movies get released under a conspiracy which pushed the actor towards suicide. The case was filed against – Salman Khan, Karan Johar, Aditya Chopra, Sajid Nadiawala, Ekta Kapoor, Bhushan Kumar, Sanjay Leela Bhansali and director Dinesh.
June 18, 2020
Sushant's ashes were immersed at his hometown Patna in holy Ganga river.

Rhea Chakraborty arrived at Bandra police station to record her statement.
June 19, 2020
Mumbai police asked Yash Raj Films for the details of contracts signed by Sushant.

Home minister Anil Deshmukh assured that all angles will be investigated in probe.
June 20, 2020
June 24, 2020
June 26, 2020
June 27, 2020
June 30, 2020
Mumbai police records the statements of Sushant's last co-star Sanajana Sanghi, sister Meetu, his brother in law, and actor's friend Mahesh Shetty.
July 6, 2020
Sanjay Leela Bhansali arrives at Bandra police station. He states that Sushant was approached for his movies 'Goliyon ki Rasleela: Ramleela', 'Bajirao Mastani' and 'Padmavat'.

Sushant's last movie Dil Bechara is released and sets a record of most viewed trailer under 24 hours.
July 11, 2020
One of the most sought after celebrity manager, who was also Salman Khan's former manager, Reshma Shetty is called in for questioning.
July 16, 2020
July 17, 2020
July 18, 2020
July 24, 2020
July 26, 2020
July 27, 2020
July 28, 2020
Karan Johar's Dharma Productions' CEO Apoorva Mehta arrives for questioning.

Sushant's father K.K. Singh lodges complaint in Patna against Rhea Chakraborty and her family members Indrajit Chakraborty, Sandhya Chakraborty and Shauvik Chakraborty; accusing her of abetment of suicide, stealing Sushant's laptop, cash, jewelry, credit cards with PIN numbers and threatening the late actor of making his medical reports public.

Bihar police arrived in Mumbai to investigate about the 'abetment of suicide' case against Rhea Chakraborty.
July 29, 2020
Forensics revealed that the cloth used by Sushant to hang himself, could take his weight. Analysis of ligature marks found on Sushant's neck also point to the actor's death is a case of suicide, rather than homicide.

K.K. Singh in said that they had alerted Mumbai Police in February but the police hadn't taken any notice at the time. He also produced transcripts of conversation at that time.
July 31, 2020
August 1, 2020
August 2, 2020
August 3, 2020
Mumbai Police Commissioner Param Bir Singh said they had no information on the whereabouts of Rhea and also confirmed that Sushant was suffering from bipolar disorder and taking medication for the same.

Patna City SP Vinay Tiwari is quarantined by the BMC.
August 4, 2020
August 5, 2020
Supreme Court hearing on a plea filed by Rhea Chakraborty, solicitor general Tushar Mehta told the top court that the Centre has accepted Bihar government's request to conduct a CBI investigation of the case.
August 6, 2020
August 8, 2020
Bihar Police has handed over all the documents related to Sushant case to the CBI

Rhea Chakraborty's notebook reveals Sushant's gratitude list

Rhea Chakraborty's brother Showik reaches ED office.
August 11, 2020
The Enforcement Directorate questioned actor Sushant's sister Meetu Singh in connection with a money laundering case linked to his death.

ED questioned Rhea Chakraborty for nine hours.
August 12, 2020
Sushant Singh Rajput's family lawyer calls Siddharth Pithani, friend and flatmate of Sushant, an "intelligent criminal".
August 13, 2020
Sushant's sister Shweta Singh Kirti posts a picture and video of herself holding a placard demanding CBI probe and a justice for Sushant.

Kangna Ranaut, Ankita Lokhande, Kriti Sanon, Varun Dhawan join also release similar photos or videos, tagging Shweta Singh Kirti in their posts.