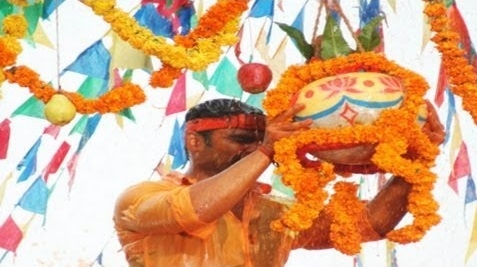 The COVID threat is constant, but we are all learning to cope with it and live our day to day lives. Especially now that the festive season is starting soon, there is an energy and happiness in the air. Although, we cannot enjoy our festivals the way we always do, we can still enjoy the fabulous songs which always lift our spirits. Let's look at some of our all-time favorites for Krishan Janmashtami
1.
Chandi ki daal par sone ka mor – Hello Brother (1999)
Nothing gets our feet moving like this song. It doesn't matter if you are 60 years old or 6 years old, when Salman Khan's Chandi ki daal par sone ka mor starts playing, all of us are ready to dance. The lyrics of this song are printed on our minds since forever and it doesn't make a difference that we don't even remember this song whole year because when the day arrives, we are all singing to our heart's content.
2.
Go Go Govinda – OMG! Oh My God (2012)
Although a new one in a list of Krishan Janmashtami songs – Go, Go, Go, Govinda has left its mark on everyone. It is memorable for its beautiful choreography performed by dance legend Prabhu Deva & Sonakshi Sinha.
3.
Mach gaya shor sari nagari re – Khuddaar (1982)
One of the highest grossing movie of that year, Khuddaar was released in the same week Amitabh Bacchan was injured on the sets of Coolie. Of course, the name Amitabh Bacchan was enough to attract crowd in the theatres but there is no doubt that the song Mach gaya shor sari nagari re played a role in the profits earned.
4.
Shor mach gaya shor – Badla (1974)
'Arrey! Ek, do, teen, chaar…. Raju dada ke chele hoshiyaar…' dare I say more? Shor mach gaya shor performed by Shatrughan Sinha on the streets of Mumbai is everything we want for celebrating Dahi Handi.
5.
Teen batti wala Govinda aala – Muqabala (1979)
Another favorite song performed by Shatrughan Sinha and Sunil Dutta is 'Teen batti wala, Govinda aala'. Gulal in the air, group of boys performing stunts is a common scene during Dahi Handi. Even though, not all of us can remember the lyrics to this one, we are always in sync screaming 'Matki fodane aala re aala'.
6.
Govinda aala re aala – Bluff master (1969)
What is the first image that pops-up in your head when someone sing/screams 'Yaahooo'? For most of us, it is the image of Shammi Kapoor rolling around in snowy mountains. But 'Govinda aala re aala' has been another masterpiece of Shammi Kapoor and which always puts us in fun spirit.
7.
Bol Bajrang bali ki jai – Hamal de Dhamal (1989)
Laxmikant Berde in his red shirt, preparing and climbing on the human pyramid to get to the matki is everything Janmashtami. The lyrics 'Govinda re Gopala' & 'Govinda, Govinda, Govinda' have always been a motivating chants during the festivities.
8.
Bada natkhat hai re Krishna Kanahiya – Amar Prem (1972)
A mother searching for her son and the innocence and naughtiness of a child is similar to that of 'Krishna-leela'. The lyrics of this song beautifully capture the relationship of Yoshada and Krishna.
9.
Kanha so ja jara – Bahubali The Conclusion (2017)
New in the lot, performed by Anushka Shetty is a song 'Kanha so jaa jara'. Lord Shri Krishna was born in the middle of the night and while preparing for the celebration, this song creates the perfect atmosphere.
10.
Woh Kisna Hai – Kisna The Warrior Poet (2005)
How many of us have danced or choreographed this song for school children during annual festival? Talking about Radha's love, Krishna's uniqueness and rasleela, this song has always been a favorite for the dance routine.
What are your favorites songs? Let us know in the comments section below.
Celebrate with awareness, stay safe!
May the force be with you! 🖖🏼