It can be frustrating beyond anything when you invest so much time and years in following a TV series and it ends badly, right? Of course, I'm talking about one of the biggest television shows of all time – Game of Thrones. The most awaited final season 8 of the show arrived last year and we were all left unsatisfied. There were mixed reviews about the finale but almost everyone agreed that the show couldn't do justice to the story.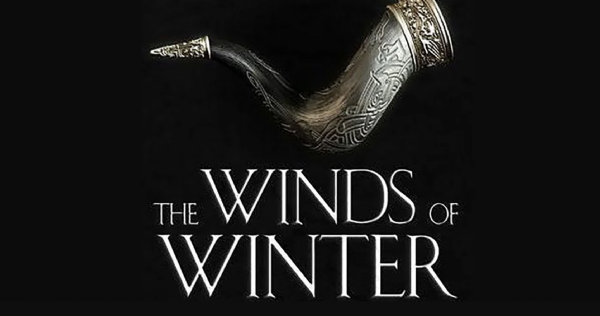 If you are one of those people who had spent hours and hours on YouTube, Quora and other groups, discussing and coming up with different theories about how Game of Thrones will end; and all your time and energy felt wasted when the season finale happened, here is the good news for you – The author of 'The Song of Ice and Fire' series George RR Martin has tweeted and shared a link of his website explaining what he is been up to during pandemic coronavirus and lockdown. The tweet reads – "I have to confess, after half a year of pandemic, I am showing signs of cabin fever. If nothing else, the enforced isolation has helped me write. I am spending long hours every day on THE WINDS OF WINTER, and making steady progress."
On his blog, George RR Martin writes that The Winds of Winter is not going to be completed in a day or even a week. 'It is a huge book and still a long way to go'. But later on, he says that it will be definitely out by next year.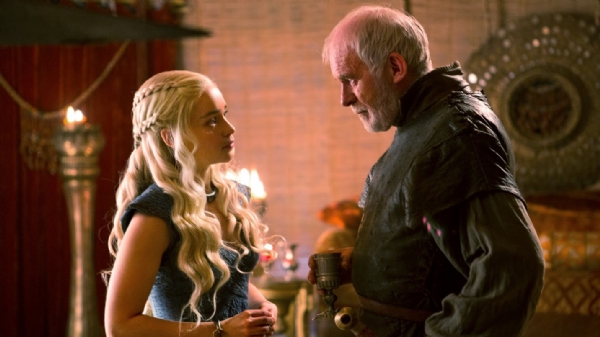 Many who have read the books know there are characters that were killed on the show but are still alive in the books with very intriguing storylines. Like, the plot for Dorne was completely ruined on the show but book readers know how fascinating that plot really is. Similarly, Jojen Reed, Son of Howland Reed who was with Ned Stark when his sister Lyanna died, and brother of Meera Reed who helps Bran Stark to go beyond the wall are also alive in the books whereas in the show he was killed by white walkers beyond the wall while trying to enter the cave of Children of Forest in season 4.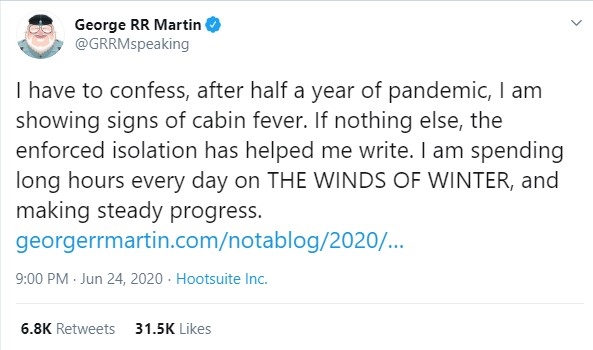 Another important and mesmerizing character, killed off on the show but remains alive in the book is Ser Barristan Selmy and George Martin mentions him in his blog. George writes, "Of late I have been visiting Cersei, Asha, Tyrion, Ser Barristan and Areo Hotah." Now, we have all seen the show and know fates of Cersei, Asha (Yara Greyjoy in the show) & Tyrion but it will be interesting to see the effect of Ser Barristan been alive and guiding Daenerys Targaryen with stories of her dead father and brother Aerys II & Rhaegar Targaryen.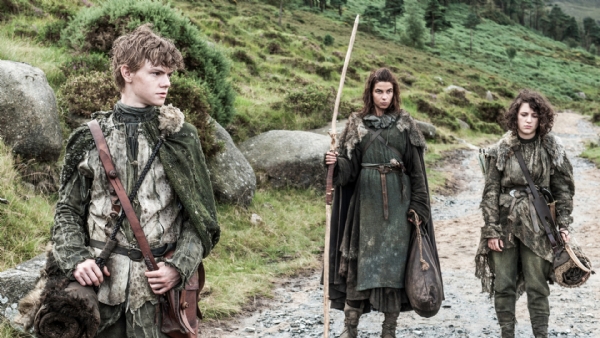 One more exciting character that shows viewers won't recognize easily is Areo Hotah, bodyguard to Prince Doran Martell of Dorne. Are Hotah, along with Prince Doran and the amazing plot of Dorne was killed off on the show in season 6 for whatever reasons, and the book readers have been really disappointed. But the mention of Areo Hotah means there is his point of view chapters and we will finally get that satisfying end for Dorne. For it deserves more than been killed off due to lack of good writers and then have no part in the endgame then to be Euron Greyjoy's "gift" to Queen Cersei.
Apart from these exciting clues and news George also talks about his other work and the books he has read recently, ending his blog with – "Now if you will excuse me. Arya is calling. I think she means to kill someone." (Excitement is above rooftop!)

In the series of "The Song of Ice and Fire" the books that have been released are – A Game of Thrones, A Clash of Kings, A Storm of Swords, A Feast for Crows, and A Dance with Dragons. The readers of the series have been waiting for the last two books – The Winds of Winter and A Dream of Spring; for almost a decade. The last book 'A Dance with Dragons' saw Jon Snow dying at Castle Black, stabbed by his brothers of Night's watch.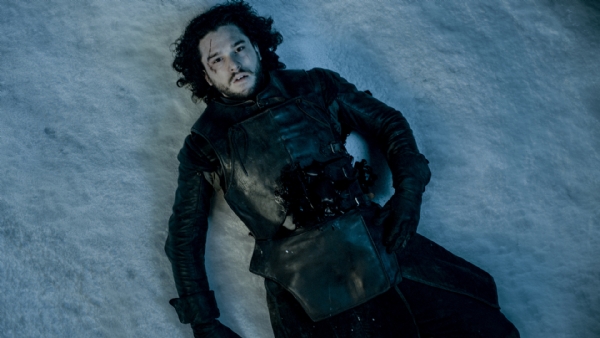 We have to say, this has given us hope and excitement in this morbid corona mood and once again established the quote that there is always a silver lining. The year 2021 cannot come fast enough!
May the force be with you! 🖖🏼


- Shruti B