Replace Dragon Initiative by Indian IT Enthusiasts
No doubt India has incredible talent and These 4 enthusiastic Indians, who are the youth of India and the future of our Nation have developed an app to educate and provide you with an option to support #BoycottChina and fight China with our wallets when our soldiers are fighting them on borders. This 'AtmaNirbhar' App will help you to do that.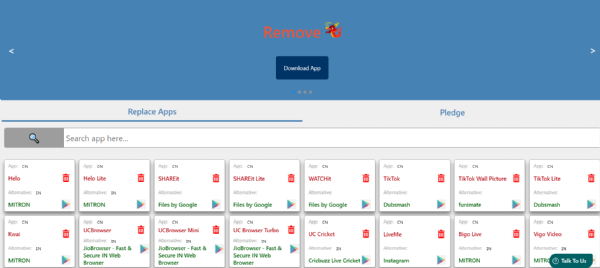 Our soldiers are giving their heart, soul, and blood for our country. Don't you feel it's time for us to contribute to our nation and strengthen our soldiers?
If So, Then be "Aatam Nirbhar" And boycott all the Chinese apps, products and start it from here itself.
This app is :
* Transparent Privacy Policy
* Detects all the Chinese apps installed in your phone
* Provide you with an option to delete them with your permission.
* At the same time, it provides you with Reliable alternatives from Trusted Indian Firms and Reliable companies like Google and Microsoft.
Now the question would be, How does this work or what's the future?
It's simple, Very soon this app will provide you with options to replace Chinese electronic devices with Non- Chinese and alternatives which are made in India and contribute to the Indian economy. which will include Mobile phones, TVs and other primary items of household
The Major Agenda of developing this app is to stop Chinese influence in the Indian economy via their cheap electronics which has shattered Indian startups like Micromax, Videocon, and Onida. And It's time to boost our products, Our people to serve the best for its nation.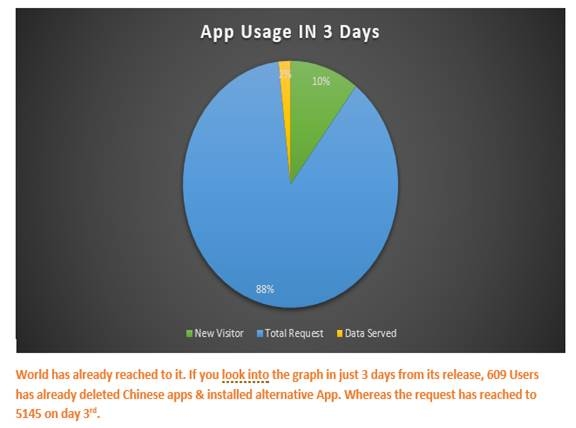 To Counter growing influence of Chinese apps like TikTok, UC browser and others which are under the scanner of our Nation's Security agencies for not only stealing our data but are earning a huge amount of money which China indirectly invest in making weapons to fight our soldiers on the border with an intent to damage sovereignty of our nation.
Why are we even bothered to give a single penny to a nation, who is not even bothered to think once before even shooting our soldiers or attacking our country?
No way! Hence, It is important if we unite together and can contribute to our fight against Chinese Apps & products and encourage others by sharing the same.
This App can not be made available on play store due to their policies, similar apps have been removed from the play store recently.
App APK Link: https://appsenjoy.com/download/2137532bfd5e947789c4d5d6b37f1d34.html
Web App Link: https://nirbhar.me/
Or you can visit the website mentioned above to know about Chinese apps and their Reliable Non-Chinese /Indian alternatives and remove/add them yourself manually.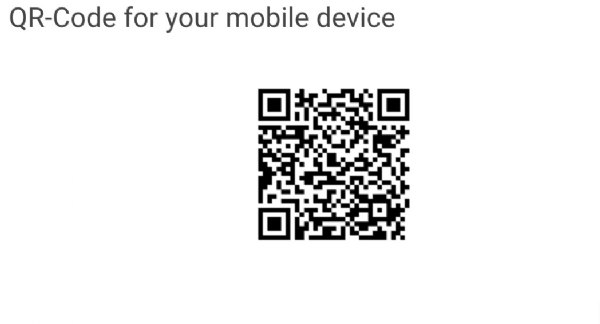 To know more, reach out to [email protected]
- Anonymous