The successful venture of The Bombay Canteen was founded by Yash Bhanage, who is also the COO of this insanely amazing place. If you live in Mumbai, I am sure you have heard about this hip place which has been here for the past couple years.
Brought up in Pune, Yash Bhanage's father is a neurosurgeon whereas his mother is an architect, Yash himself is the younger of the 2 sons in the family. Growing up, Yash never thought of becoming a chef, but he did Hotel Management in Goa for 3 years and worked as a waiter in an Italian restaurant. With years of experience under his belt Yash proceeded to do Masters in Managing Hospitality in New York.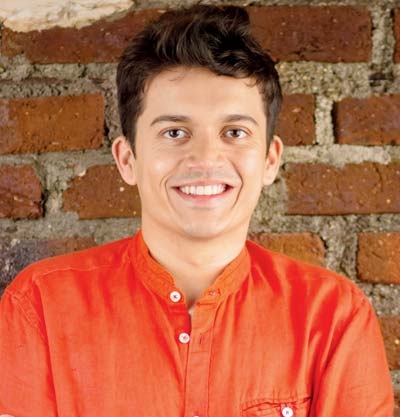 After completing his Masters, he started working in a bar in Chicago where he started understanding the culture even more. He also worked in Singapore as a Jazz bar manager, and as a pool-side manager. While being there, he got a call from one of his friends in New York, Sameer Seth, who was also working in restaurants. Sameer proposed an idea to Yash where they could both add value to what they were doing, and start something of their own in India. During this time Sameer was working under chef Floyd Cardos. So, Yash and Sameer took their concept for the café to Chef Floyd Cardos. He loved the idea and decided to join Sameer and Yash on this plan. Floyd still works in New York at his own restaurants, and is still based out of there, but takes trips to India.
And so, after spending almost 4 years in Singapore, Yash moved back to India along with Sameer. In Mumbai, they chose a place near Kamala Mills, which was then just a barren. Around 6 months before opening the Bombay Canteen, they hired their fourth partner, Chef Thomas Zacharias and together, they started researching the regional cuisines they could start highlighting on their menus, and developing new recipes. An interesting fact about this café is they use only indigenous products in their kitchen.
The idea behind The
Bombay Canteen
was that Yash and his other 3 co-founders wanted to find a way to celebrate India through this venture. The idea was to serve regional Indian food with an amazing experience for every single customer, basically in an acceptable and an approachable setting. The beauty of it was to have an old couple celebrating their anniversary there and simultaneously you could see people having an official meeting in business attire, and you could also see youngsters having a good time at the bar. As all of us have spent time in a canteen at some point in our lives, they wanted to implement similar accessibility & approachability within this place. Their goal was to create an ambience where people did not feel intimidated when they walked in, and so the name was chosen Canteen.
For the first 6 months of opening the Bombay Canteen, they only opened for about 40-80 people in the café, and were only using social media to promote the place. Yash wanted to make sure that each customer has a pleasant experience here. For Yash, his success is his team. He started off with 10 people in his management team, and now, 4 years later, he still has 9 of them, which is praiseworthy.
Yash proceeded to open another café called
O Pedro
. This time he wanted to create a kind of escape space for corporate individuals. So, the idea became reality and one escape place which many compare to heaven became the theme of space as well as food. And so,
O Pedro
gives you the feel of Goa, not just by ambience but by their delicious Goan & Portuguese menu too!
So this was the amazing success story of Yash who worked hard towards his dreams for years and gave the world these two amazing cafes which are truly magnificent, and which one should definitely go to when in Bombay.
If you found this story inspiring or learnt anything new from it, do comment down and let us know!
- Kinjal Dixit