India has a rich cultural history, and with the history comes the story and with story comes the architecture of that city.
The architecture of any city has a tale to tell us and is waiting to be heard.
Architecture is not just a structure it has a more and more to tell about itself it has its own style, secrets, lifestyle, and culture always a story to tell from where it all started.
What are the things that excite you when you hear any city? It is its food, culture or architecture. Architecture is something which marks the identity of any city.
MANDU-
Mandu or Mandavgad is an ancient city in the present-day Mandav area of the Dhar district. It is located in the Malwa region of western Madhya Pradesh, India, at 35 km from Dhar city. In the 11th century, Mandu was the sub division of the Tarangagadh or Taranga kingdom. This fortress town on a rocky outcrop about 100 km from Indore is celebrated for its architecture.
Floating over its own reflection, the Jahaz Mahal in Mandu looks like a ship that's about to sail. However, for centuries this ship made of stone and mortar never did. Instead, it stood floating over the twin lakes, bearing a silent witness to Mandu's long, rich and varied history.
The city of Mandu is adorned with spell-binding Afghan architecture surrounded by baobab trees, native to Africa. The grand palaces are still alive with royal romance while the gateways (darwazas) speak of a history of imperial conquests.
A walk through Mandu will leave you awe-struck, the way you used to be listening to stories from grandparents.
Here are some wonders from Mandu:
. 1. Jahaz mahal -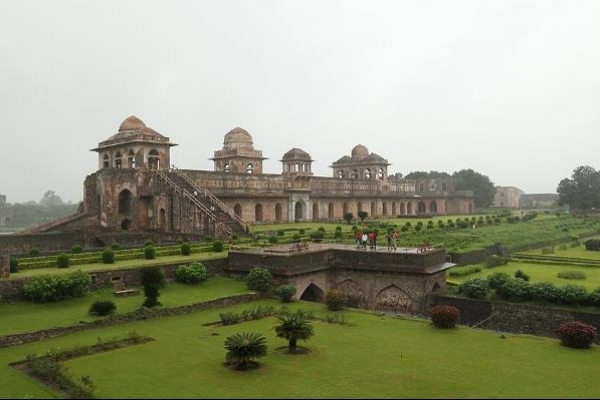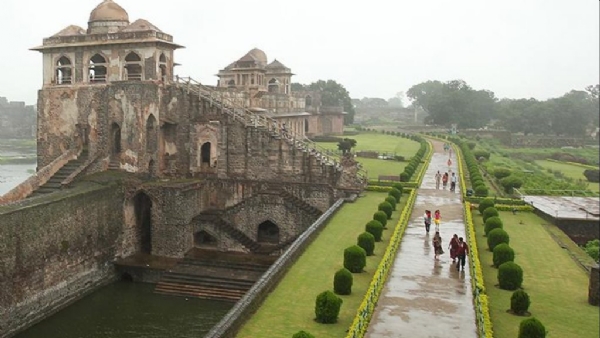 Jahaz mahal is a gem in architecture built around 15th century by SULTAN GHIYAS-UD-DIN-KHILJI. It is built on a small strip of land between Munj talao and Kapur talao. As the name suggests jahaz means ship and mahal means palace the structure looks like a floating ship on water. There are gorgeous halls, cenotaphs and Turkish baths that look absolutely beautiful.
1 2. Jami masjid -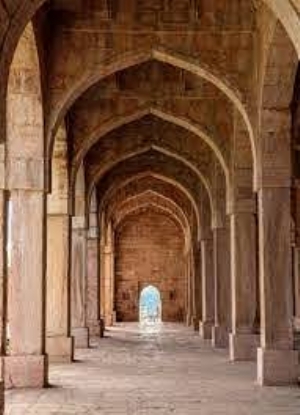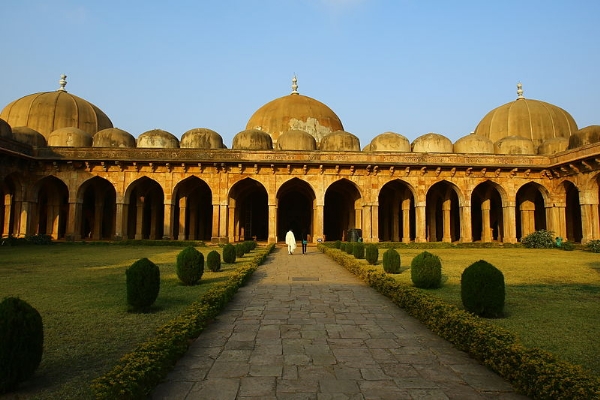 This colossal landmark is another wonderful witness of the prosperous history of Mandu and a great example of Afghan art. It was a place where hordes of worshippers would arrive every day in the bygone era and one can see the many chambers and domes used for various purposes.
A marvellous construction by the Ghauri Dynasty, this is one of the best places to visit in Mandu owing to its plateau-top location and the famous holy reservoir- Rewa Kund. The elaborate marble designs and carvings are other best things in this Masjid besides its capacity.
1. 3.Rani roopmati pavilion -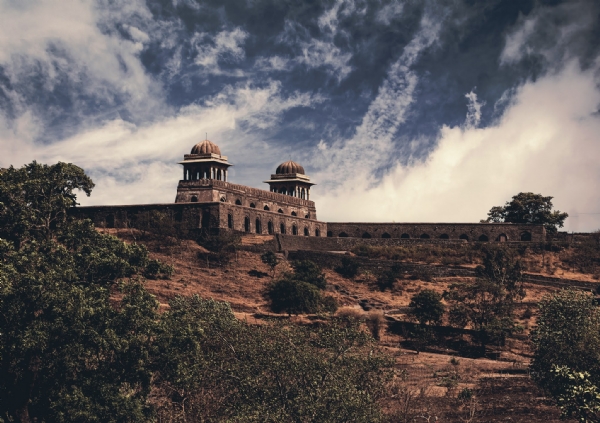 This vintage place bestows you with an unparalleled view of the river Narmada. The Pavilion has a back-story of a medieval romance that started between King Baz Bahadur and Rani Roopmati. Earlier this hilltop structure was used as an army ground to keep a watch around and guard the kingdom. The pavilion has two watchtowers and beautiful courtyards as well, making it one of Mandu tourist places which are mandatory parts of every itinerary. It is said that Rani Roopmati was an accomplished classical singer and the pavilion was made acoustically so it served her better
1. 4. Baz bahadur mahal -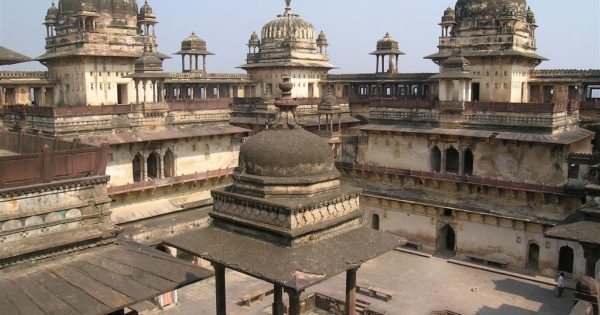 Khilji Sultan Nasir-ud-Din constructed the palace in the year 1508-1509, for the last ruler of Mandu- King Baz Bahadur. The mix styled architecture that includes a glimpse of Mughal and Rajasthani aesthetics is a marvellous piece of art.
The King became fond of this palace because of his eternal romance with the accomplished singer Roopmati who used to visit the nearby Rewa Kund. There are about 40 broad steps to reach the entrance of the Palace and this hilltop monument offers scenic views of the surrounding region.
1. 5. Neelkanth Mahadev temple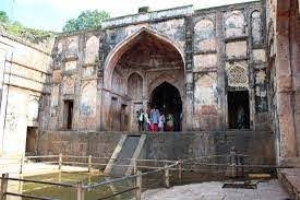 Around 4 km from the city lies the splendid Neelkanth Palace which is a temple dedicated to Lord Shiva. This temple stands on the place of an ancient shrine that was transformed into Akbar's governor pleasure palace. But the palace was reclaimed and converted back into a temple later. A temple displaying Islamic style architecture with a Shiva Linga installed at its centre. There's also pretty little waterfall just behind the temple, which adds beauty to the whole place.
1. 6. Darya khans tomb -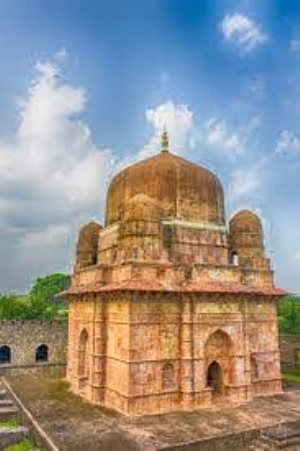 This tomb is a great specimen of Islamic art which was constructed by Darya Khan during his ruling years 1510 A.D to 1526 A.D. Before he died the tomb was already constructed and his body was buried in the same. It is closely located with Hathi Mahal and falls between Hosai Village and Rewa Kund.
The central dome which is the main tomb is cornered with four little domes and the structure is supported with huge arches. You can retrace the historical architectural style by looking at the designed arrangements of the tiles on the walls inside.
7. Ashrafi mahal -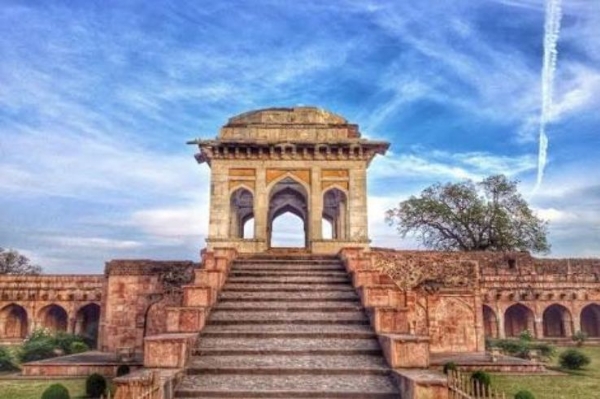 Standing as a unique building amidst the many ruins of Mandu, Ashrafi Mahal was initially made a madrasa (Islamic-school) which collapsed with time because of its amateurish design. The edifice was built by Hoshang Shah during the years between 1405 and 1422 when Mahmud Shah Khilji ruled the area.
He wished to promote education but while it was being constructed, he decided to make it his own empire. As you wander in the ruined landmark, you will see rows of cells and long corridors, cornered with four tall towers which make the mahal entirely look like a school building.
These are just 7 many more such gems are there that need to be explored in mandu. It a city with lot of romance as well as great importance in architectural history.
Follow this series of architectural cities to get to know more about its wonderful architecture and listen to its story with a little more interest.
- Vaishnavi Sarwate