With festivals come the tradition of wearing authentic outfits suitable for every occasion. In a country like our's we are blessed with a variety of attires observed in different regions of the country. For women, especially, this becomes the best part of any festival that starts with shopping. The markets seem decorated before every festival with different traditional costumes worn by various communities in various regions of the country. Although this year, showing off your costume publicly will be limited but let us all at least have a quick fashion tour across the country to check out the traditional Navratri outfits worn in different parts of India.
Chaniya Choli -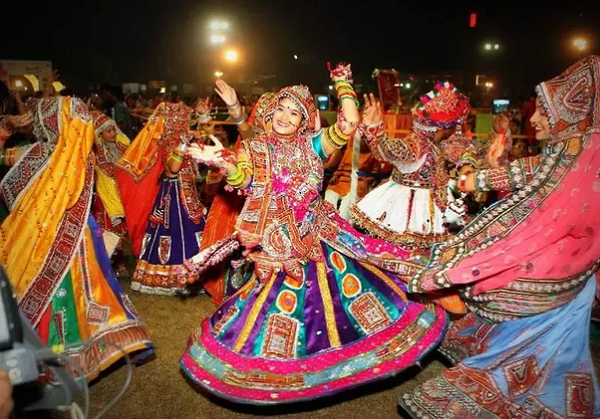 Gujarat is famous for textile and fashion across the country, or I would say even the world. The people living here are known for the use of vibrant colors and attractive fabrics for their clothes. In fact, Chaniya Choli which is originally a Gujarati style of attire has become so renowned around the world that it has unofficially become the dress code for Navratri. Among the markets of Gujarat we observe different styles or Chaniya Choli depending on the region.One would find the typical and authentic Gujarati Chaniya Cholis in the market of Kathiawad and Kutchh, whereas the fancy and modern designed pieces are mainly shopped from the markets of Surat and Ahemdabad. Attractive Chaniya Cholis also enlighten the markets of Mumbai during Navratri considering the large number of Gujarati population living in the city. Not just women but men too wear Kediya that is authentically worn in Gujarat but the fancy and attractive ones are out during Navratri. These costumes are mainly originally worn in the states of Gujarat and Rajasthan.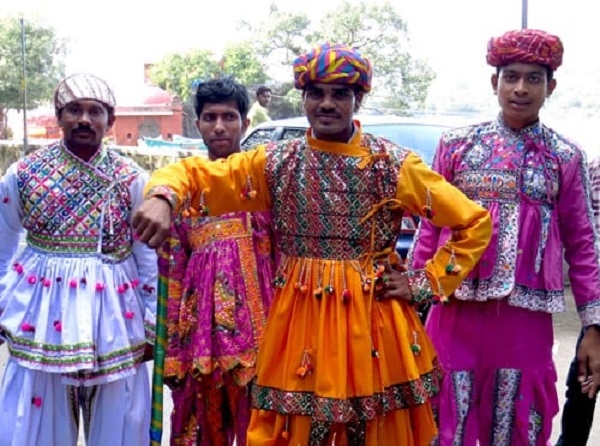 Of course, the style became more famous when Ranveer Singh slayed the Kediya outfit in Ram Leela. This vibrancy of Gujarati attires can make shopping in the Surat market an extremely pleasant experience. At times, it turns out to be an addiction which is clearly evident from how Dayaben plans a quick shopping trip to Surat for the whole Gokuldham Mahila Mandal from Mumbai. This year a novel experiment in the costume was also carried out by some students of Surat who have designed Chaniya Choli and Kediya out of PPE kits, to match with the new normal. Of course, can one really think to parallel the enthusiasm of Gujaratis and that too for Navratri?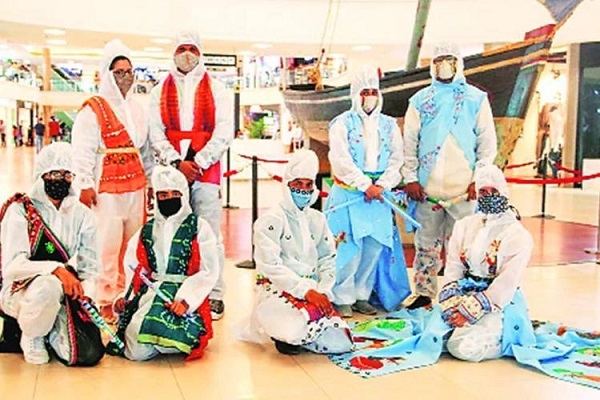 Bengali Sarees -
The traditional Bengali attire for Durga Pujo is the White cotton Saree with Red border which the Bengali women comfortably wear and show off around in the Pandals during usual circumstances. This year, although Durga Pandals have been given permission to public access, it won't be as festive as it was in the last years.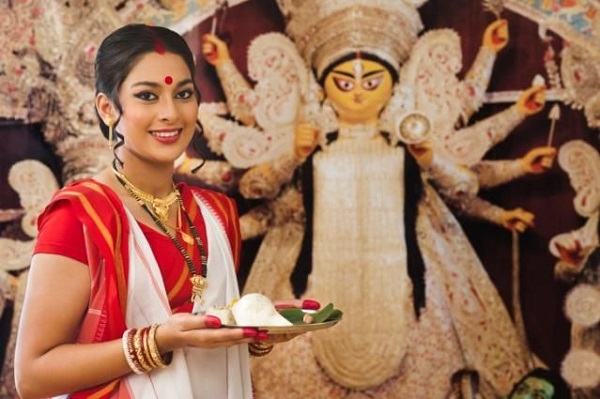 In fact, the White Bengali Saree is associated with all the good and significant moments of life and hence it is worn during most of the auspicious occasions. The saree is traditionally known as Laal Paar Saree in Bengal. Among these there are different types of Lal Paar Sarees which are preferred in Bengal like Taant, Tussar, Korial, Garad, Baluchari and Murshidabad Silk.
Among these, Korial is the most famous Bengali saree and is traditionally worn by married women. Korial and Garad are mostly similar in looks and the only difference between the two is that Garad sarees have lighter red border than Korial. Again the Taant Saree has similar features with one distinctive feature of crisp and stiff fabric.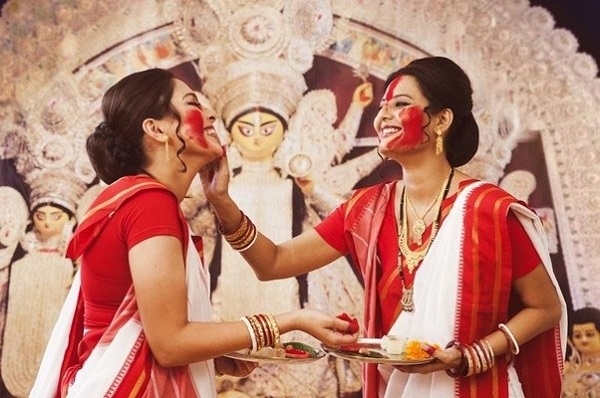 For men it is not much of a fashion statement for Navratri in this region. Traditionally in Bengal men wear White Kurta and White Dhoti during Navratri. But nowadays, even Kurta Pajama is seen to be used.
- Himali Nalawade