This beautiful mountain passageway that is located in Maharashtra, just between NH4 and Konkan. Known for its mesmerising waterfalls, lakes, magnificent surroundings, it is set in the heart of the Western Ghats. From Pune, it is around 108 kilometres far. You will come across the first of the highway, which is around 40 km from Pune, towards a small town of Kapurhol. As you start covering up distance away from Pune, the surroundings become more mesmerising by the minute, and the climate is unbeatable, especially during monsoons and winters. I must add that this patch is a particularly rainy one. The atmosphere is fresh and evergreen, but rather damp.
But, if you enjoy long drives, this one you will fall in love with. It is best recommended to travel here on a two wheeler, to get the best monsoon experience of all. The experience to this ghat definitely would not be the same in a car. Now, taking a right turn from Kapurhol, the photographer's paradise begins, as the countryside offers colossal chances for pictures. The next scenic point would definitely be the necklace area where the Krishna forms a scenic view that looks nothing short of magic. There are few more spots along the way, where you can stop for pictures and a hot corn on a cob and a steaming cup of chai. One such point is Bhatgar dam. This dam is 15 minutes from the Varandha Ghat.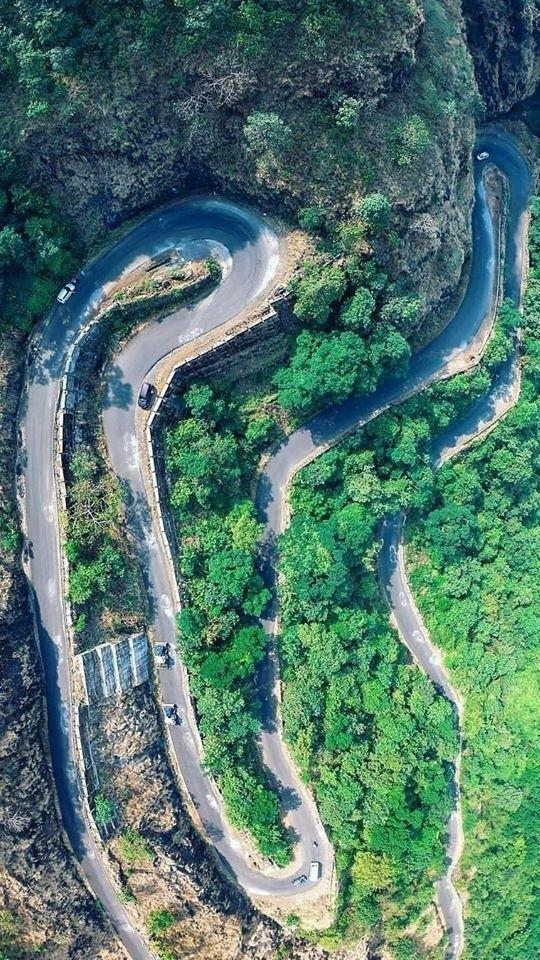 Very near the ghat is a fort called Kavlya fort. It is located at the very border of Pune and Raigad, and this seems to be a strategic decision to place the fort here. A fun fact about this fort is that there are 9 stone water tanks which are located on top of the fort. Another fact is that the last portion of Varandha Ghat is carved out of the remains of this fort, and hence, this fort takes a significant role in this ghat. This fort offers a pretty amazing view of Varandha Ghat and a few other ones as well. This fort has a trek and is paradise for trekkers. Do not mind the red soil that is embedded within the fort though. The fort is now in ruins and has a deep valley baking it. You will spot a lot of Kaarvi trees in the woods that surround the area of the valley. Most of the times during monsoons, all the peaks of the mountains surrounding the valley are covered with clouds, and this view is one you do not want to miss here.
You will find a lot places offering piping hot tea with a plate of kanda bhaji, or even batata vadas outside of the fort. Enjoying this in rainy weather and with a view sounds truly phenomenal. There is also a really ancient temple nearby that goes by the name of Vaghjayi Mandir.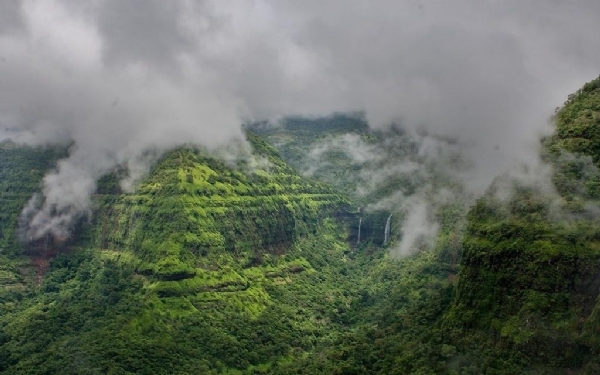 These are all the important spots that one should stop by if you plan to visit Varandha Ghat, which you most definitely should. This drive is still lesser known to people, which is exactly why it should be explored more. This whole drive is a treat to eyes and one will absolutely fall in love with the nature and the surroundings it has to offer. The waterfalls in this valley can be seen emerging from beneath and behind the thick woods and some of them are so big, they seem to be roaring to the world. These pearl white crystal clear water falls seem to play hide and seek with those who look at them during the drive as they swoon in and out of sight in the woods.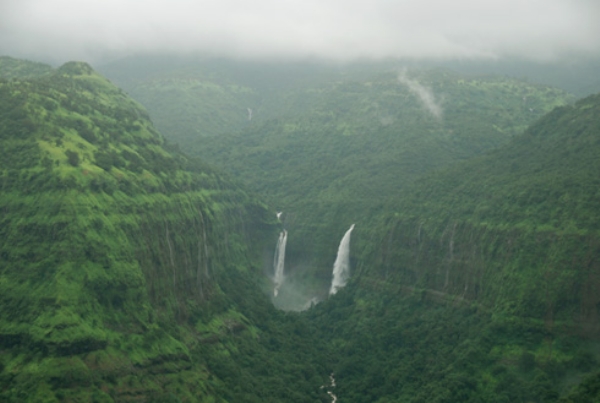 Please let us know your experience in this mesmerising valley. I do hope you enjoyed this article and learnt something new today. Do let us know if you did!
- Kinjal Dixit