Location- Ahmedabad
One of the latest restaurant additions in Ahmedabad, Muse Bistro is one of it's kind. It is located at Sindhu Bhavan Road which is a popular destination for foodies across the city. It is spread across a vast space and has three types of seating arrangements available. Apart from inside and outside seating, there is a separate glass cabin for coffee lovers. There is an artificial pool situated at the heart of the restaurant which makes it look even more visually appealing and adds to the aesthetic factor of the place. The glass door, fairy lights, and elegant cutlery make Muse an absolutely insta-worthy place.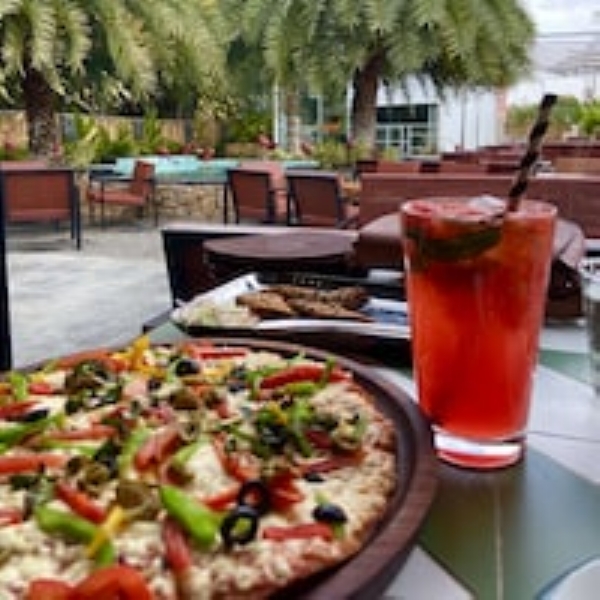 The staff is courteous and polite. The menu consists of exquisite continental dishes as well as fusion dishes. The extraordinary thing about Muse is that they have incorporated Indian dishes in their menu with a continental touch which makes them taste as well as look even better. My favourites include Tikka Paratha- a combination of Lacchha Paratha topped with paneer, tomatoes, bell peppers and onion, Oriental Twist- Spaghetti Aglio Olio served with Thai Curry, Black Bean Rice- one of the best Mexican Hotpot in the city, Twisted Roesti- another Mexican bestseller, Spanish Toastadas- a light tortilla snack and Kung Pao Chestnuts- a unique combination of chestnuts tossed in Kung Pao sauce.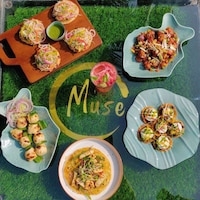 The beverage menu displays some of the best ice teas and coffee in Ahmedabad. Fruit Ice Teas are available at Muse with freshly cut fruits.
The KitKat Frappe and Chocolate Cappuccino are the popular beverages for all chocolate lovers out there. Best of desserts include Warm Chocolate Truffle, a gooey-chocolaty pastry with coffee ice-cream giving a burst of hotness and coldness at the same time and Black Sesame & Chocolate- a chikki-like made pastry which will make even non-chikki lovers relish it. The only con perhaps is the pricing. This newly opened Café is priced quite high with each dish starting above ₹300 and the portion is quite small. On the positive side, the food is absolutely scrumptious and finger-licking good. The dishes are well presented and garnished properly which makes them look attractive. The vibe is cute-chic and romantic. Muse Bistro is the ideal place for dates as well as outings with family.
Rating-
Décor- 5/5
Service- 4/5
Ambiance- 4/5
Food- 4.5/5
Value for Money- 2.5/5



- Review by Astha Mamtani