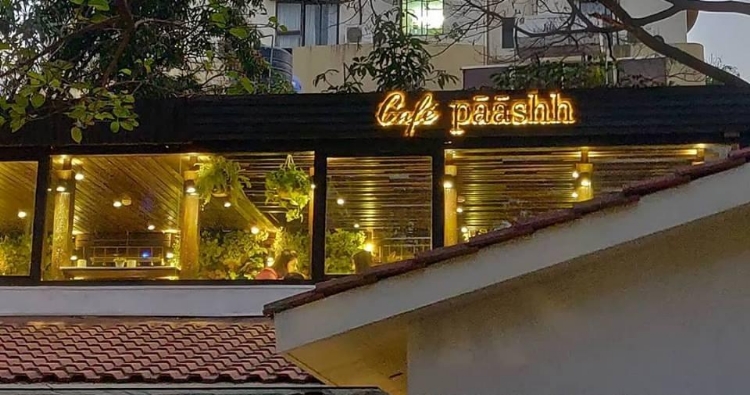 Location: Pune
Cafe Paashh, one of the most extraordinary places in Pune, it is an organic cafe which has a organic clothing boutique and sustainable lifetsyle and home decor as well. It is set in a row house with beautiful ecstatic lighting around which provides a soft soothing magical feel. It can be considered as one of the most fancy places in Pune city.
The menu is also completely different to what others cafes serve. They have a purely organic and vegetarian menu with vegan options as well. Each dish on the menu is specially cooked by their chef and the freshness in imbibed in the taste. The main menu includes a premium range of exotic high teas, calzones, madeleines, tartines, soups, salads and everything else but with a twist. Since everything is organic there, the gol gappa that they serve is made of quinoa salad, chick pea and sweet potato. It is one of their bestsellers. Other organic dishes include Soba Noodles, Charred Pumpkin Kebab, Multi-grain Thaalipeeth, Buddha Bowl, Vegan Pho and Pongal Rice Cakes.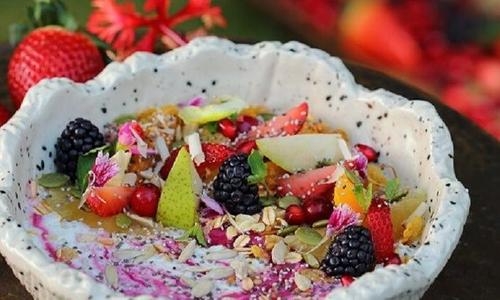 Their dessert menu called "Sukoon" comprises of never heard before delicacies like Coconut & Espresso Panacotta, Saffaron Poached Pears, Bavarois, Lemon & Thyme Cheesecake, Chocolate Pumpkin Pudding with Pumpkin Anise sauce, and a variety of freshly churned artisanal ice creams. Aprt from this, the beverage menu has a lavish spread of exotic drinks like Smoothies, Kombuchas, Pannakam, Sencha, Silver Moon Tea, Organic Coffee and even Volcanic and Sparkling water. Each and everything up on the menu taste of pure love and passion made by the chef himself.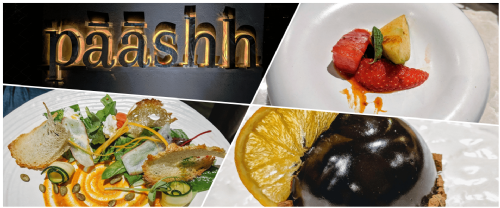 The organic feel is right there in the food. The pricing is a bit high but considering the fact that the place is so big and set in a row house and the food is completely organic and healthy, it seems quite appropriate. The staff is extremely courteous and friendly and seem to have deep knowledge about what they serve. Cafe Paashh is a must visit place for organic food enthusiasts and vegans.
Rating:
Decor- 5/5
Ambience- 4.5/5
Food- 4.5/5
Service- 4/5
Value for Money- 3.5/5
- Review by Astha Mamtani